Communication and client relationship solutions
Pay all the necessary attention to the relationship with your clients, suppliers, partners but also your teams. Be able to detect business opportunities. Strengthen your relationship with your teams and clients thanks to intuitive and efficient tools.
More automation.
Less
time wasted
No longer juggle different solutions to stay in touch with your team members or clients. Benefit from tools integrated in Jarvis to be more efficient in strengthening your relationship with your clients as weel as your teams.
Secure video conference
Your discussions remain private, as they are encrypted from end to end by Jarvis. This service is hosted and operated from our servers in data centers exclusively located in France. Your team members and clients are all discussing securely and privately.
Customer portal
Create interactive shared space with your clients and partners to securely share files on your matters. You are informed when files are uploaded, even the largest ones.
Follow-up activities
Save the history of interactions with your customers since the very first contact. Identify business opportunities as well as the hot matters your service should address and keep an eye on.
Dashboard
Don't miss any key information regarding your matters. Financial information, matter reminders, overdue tasks… you see at anytime live information to decide on the best course of action for your matters.
Synced calendars
Remain perfectly coordinated with your team, from any device. Your events are automatically synced with all your calendars. You avoid double entries and remain available for your team members and clients.
Shared emails
No longer waste time filing or searching for emails. In Jarvis you directly access them from your matters. Every participant has access to them, which prevents you from endlessly forwarding emails or creating shared email accounts.
Dedicated team at your side
Accessible from Mac, PC and mobile
Secure communications
The video conference that
takes care
of you
Use the best video-conference tool available on the market while making sure your communications are 100% secure and confidential. Jarvis Connect offers a unique user experience: you start a meeting in one click, participants can join from their web browser without any installation. With HD audio, screen sharing, group or private chat, moderator role, you benefit from the video-conference tool while making sure your communications are encrypted and confidential.
Client Relationship
You have
more team
for your clients
Thanks to Jarvis, you have more time for your clients, whether they are internal or external clients. You bring them the service level they expect and meet their expectations. You save on average 44 hours per month thanks to Jarvis advanced automation. You can dedicate this time to your teams, clients, partners and suppliers as well to following up on matters or analyzing dashboards. Your time is smartly used, leveraging your expertise and that of your teams.
Stay synchronized
Work on your emails and calendars
directly from Jarvis
Make your day-to-day work easier by managing your emails and calendars directly in Jarvis. It's simple and everything is synced both ways. You instantly see all the operations in your Outlook and smartphone thanks to a smart sync. You process the information in due time and improve the communication with your clients or third parties. You give a true collaborative dimension to your matters by giving the participants access to the emails and calendars events of your choice.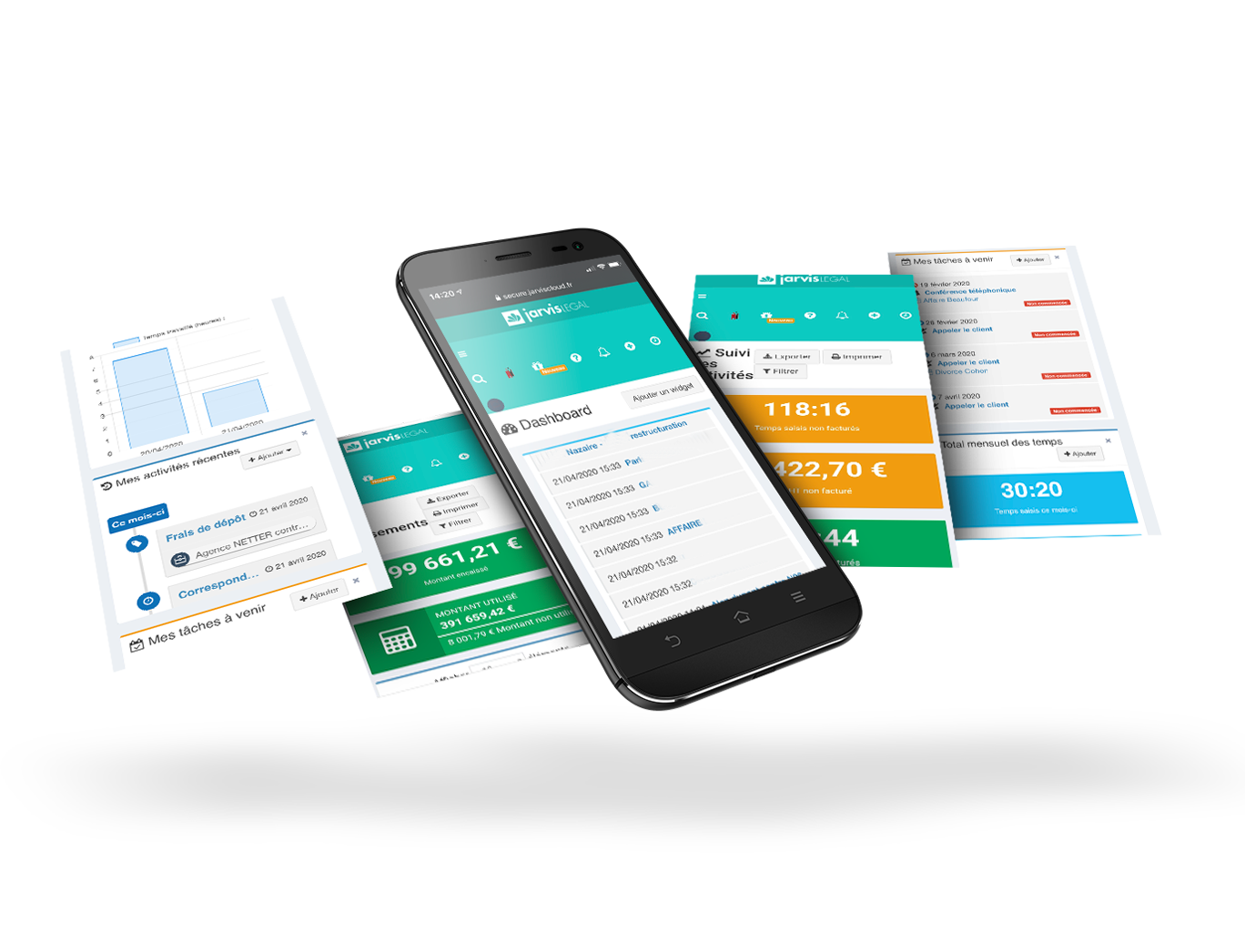 Accelerate your

digital transformation
With Jarvis, your digital transformation gets real in a matter of days. Our dedicated Customer Success team is here to assist you before, during and after the implementation. You quickly save several hours every day. The return on investment is immediate.
Cloud power
Our solutions are plug-and-play and are just waiting for you. Everything is being implemented without any impact on your team daily operations.
A dedicated team
An entire team is dedicated to assisting you throughout the project. From the data migration to the training of your team members, we remain at your side.
saved every month/teammate
savings on your IT budget
Facilitate your digital transformation
More automation.
Less
time wasted
Accelerate your digital transformation thanks to a 100% Cloud-based solution hosted in France. No more time-consuming and costly server deployments. You're up and running in a matter of minutes. Immediately enjoy Jarvis Legal and digitalize your legal practice to remain operational under any circumstances. You can access your matters, documents and invoices from anywhere, from any device at any time. Even offline.
Jarvis is a genuine Cloud-based solution designed for legal professionals that allows you to significantly reduce your costs. You no longer need servers or shared hard drives, you reduce your investment budgets as well as your operating costs. You improve your cashflow position and keep a safety cushion.
They
trust
us
Trusted by thousands of users in France, USA and in more than 30 countries worldwide.
Anne-Charlotte Moulins Esq.
Alter Avocats - Bordeaux
Perfect Customer Support team! Always get relevant answers to my questions in a matter of messages.
Clémence Michaud Esq.
Lawyer - Bordeaux
With Jarvis Legal, I can focus on my key tasks and developing my clientele. Immediate grasp of the software thanks to a hyper professional trainers.
Etienne Deshoulieres Esq.
Deshoulieres Avocats - Paris
The learning curve was really quick. Every associate at the firm manages their time-tracking and billing. I only have to validate invoices. I have considerably saved time on the whole billing process.
This pages may
interest you
Subscribe to our newsletter
Receive our latest information, files and articles to help you on a daily basis!

The software for lawyers and legal departments
© 2023 Jarvis Legal. All rights reserved.