The video-conference tool that takes care of you
Jarvis Connect guarantees the strict confidentiality of your audio and video communications. You start conferences in seconds remotely, without any installation nor setup. Your discussions are private and secure. You focus on your mission and work serenely .
Secure video-conference
Communicate
securely and confidentially
Social distancing shouldn't prevent you from communicating securely. Jarvis Connect is a video-conference solution specially designed for legal professionals, who are concerned about the confidentiality of their communications. All communications are encrypted in transit and on our servers and are totally anonymous. Our commitment is clear: your conversations are your business and must be 100% secure. That's why we are working with the best-in-class data centers in France to host our video-conference service. We guarantee the data territoriality without impacting the functioning and quality of communications.
Dedicated team at your side
Accessible from Mac, PC and mobile
Ready to use
Start a video-conference in
seconds
Jarvis Connect is a video-conference service accessible without any installation. You launch a new meeting in seconds and participants easily join in one click. Jarvis Connect is compatible with all web browsers. This way, you're sure your meetings start on time and participants can join instantly.
Mobile
The
mobile
video-conference tool
Accessible from Android and iOS, Jarvis Connect is always at your fingertips. You can instantly connect, from anywhere at anytime. You start or join a conference directly from your smartphone or tablet for a unique experience without any limitations. You have access to the same features: screen sharing, audio, video, chat and much more are all available from your mobile devices. You stay in touch with your teams or clients under any circumstances.
Professional quality
The
best-in-class
video-conference tool
Offer the best audio and video experience to your team members, clients, suppliers or partners. We paid a particular attention to the quality of communications to make them as clear as in face-to-face meetings. Our services are dimensioned to provide the most stable and reliable connection.
Besides, we encrypt communications in transit and on our servers to guarantee they remain strictly confidential under any circumstances. Our servers are exclusively located in France, to make sure data storage and transfers are always GDPR compliant. Just like you, your clients or any participants benefit from the same guarantees.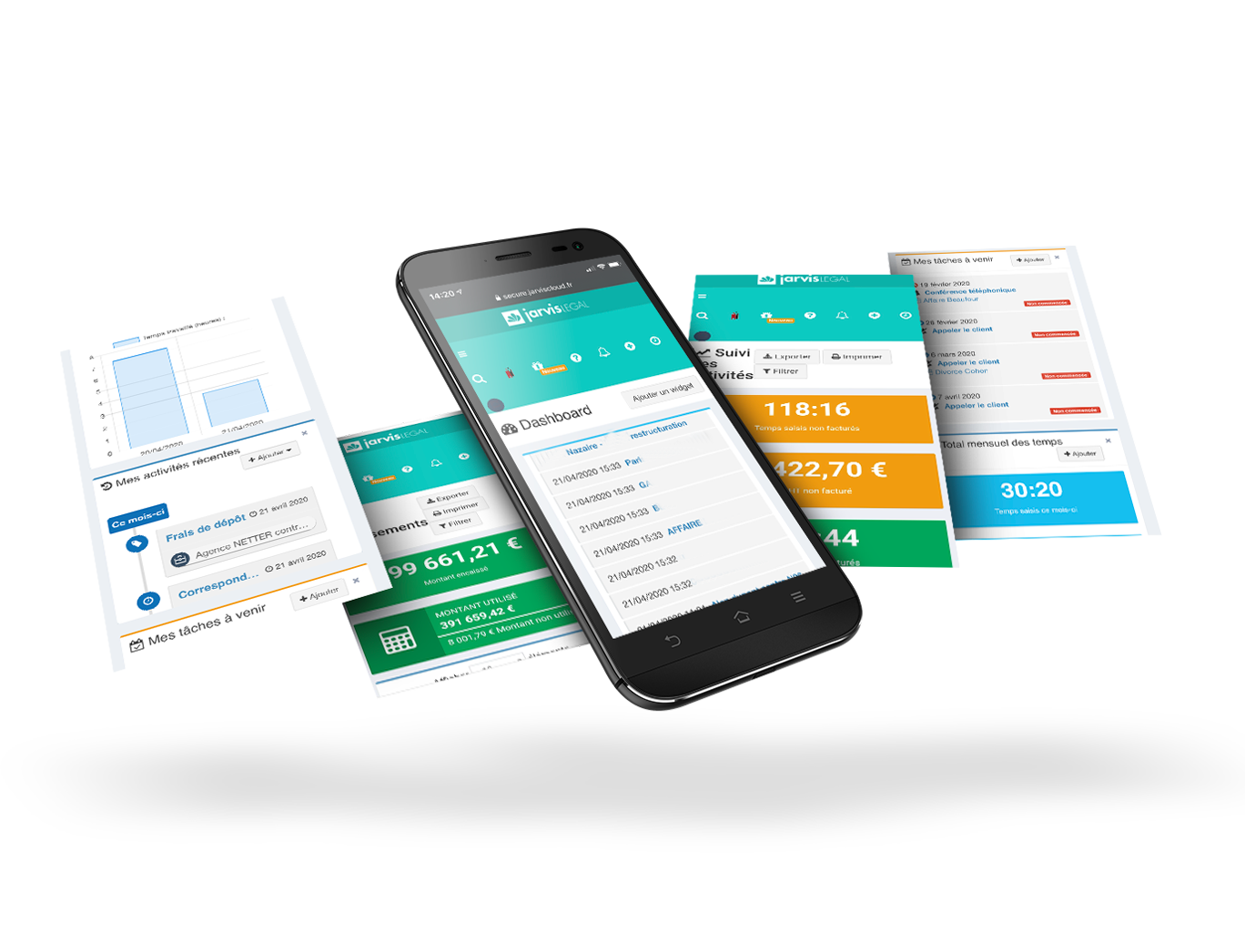 Accelerate your
digital transformation
With Jarvis, your digital transformation gets real in a matter of days. Our dedicated Customer Success team is here to assist you before, during and after the implementation. You quickly save several hours every day. The return on investment is immediate.
The Cloud power
Our solutions are plug-and-play and are just waiting for you. Everything is being implemented without any impact on your team daily operations.
A dedicated team
An entire team is dedicated to assist you throughout the project. From the data migration to the training of your team members, we remain at your side.
saved every month/teammate
savings on your IT budget
They
trust
us
Trusted by thousands of users in France, USA and in more than 30 countries worldwide.
Anne-Charlotte Moulins Esq.
Alter Avocats - Bordeaux
Perfect Customer Support team! Always get relevant answers to my questions in a matter of messages.
Clémence Michaud Esq.
Avocate - Bordeaux
With Jarvis Legal, I can focus on my key tasks and developing my clientele. Immediate grasp of the software thanks to a hyper professional trainers.
Etienne Deshoulieres Esq.
Deshoulieres Avocats - Paris
The learning curve was really quick. Every associate at the firm manages their time-tracking and billing. I only have to validate invoices. I have considerably saved time on the whole billing process.
At the
heart
of the legaltech
For more than 7 ans, Jarvis Legal has been an active leader of the legaltech ecosystem, developing innovative technologies to better our users.
This pages may
interest you
Subscribe to our newsletter
Receive our latest information, files and articles to help you on a daily basis!

The software for lawyers and legal departments
© 2023 Jarvis Legal. All rights reserved.