Secure document management and storage space in the cloud
Gather all your documents in one place safe and secure. Create custom templates in seconds. Use Jarvis automated document generation to save precious time and draft high quality documents. Store them in one place safe and allow team members to easily access them.
More automation.
Less
time wasted.
Jarvis generates documents based on your own templates in seconds. You make the most of your document database and facilitate its access for your teams.
Customizable templates
No need to be an engineer to create and customize document templates. You easily insert merge fields in one single click. A search engine is at your disposal to help you quickly find the right merge fields.
Document generation
Select the template you need and launch the document generation. And that's it! Jarvis populates all the merge fields and automatically insert the corresponding information in the final document.
Smart search
Cut in half the time spent on searching for documents. Don't waste any more time digging out the right document. The search is done across all your files and inside their content.
Collaborative space
You and your teams have access to a share document storage space, which contains the latest version of your documents. You can edit them live and simultaneously. Say goodbye to endless emails discussions to draft documents.
Secure file sharing
Securely share large files without using third-party file sharing apps. Large files are shared via secure sharing links, protected by a keyword and expiration date. The recipient are notified by mail to make sure they don't miss anything.
Shared templates
Easily and quickly share documents templates with your teams. You make sure they use the latest versions of your templates. This way, you reduce your firm or legal department exposure to legal or financial risks.
Dedicated team at your side
Accessible from Mac, PC and mobile
Professional document storage space
Accessible
from anywhere
Your online document storage space is 100% cloud-based and hosted in France. You can access it it from anywhere and at anytime. It's even more convenient as you can connect from any computer, tablet or smartphone. The powerful search engine allows you to save a lot of time and efforts. There is only one current version of every document. All your team members have access to the same version of the documents and edit them online collaboratively and in real time.
Document generation
Generate documents in
seconds
No longer waste time drafting documents by copy-pasting a previous version and manually change the names of clients or third parties. Benefit from a smart and efficient document generation tool to save time and draft high quality documents. You pick the template, the language, and Jarvis takes care of populating the required information for a stunning final result. Your final document is generated in seconds and ready to be sent.
All your documents in one place
Share
a common template set with your teams
Improve the legal compliance of your law firm or legal department by sharing a common document template library with your teams. You make sure they use the latest version of your templates updated according to the latest regulations. You harmonize the working habits and implement the best practices across your organization. Your team members are assured to have the right tools and materials to complete their missions and produce high quality documents. You are more efficient and engage even more your team members.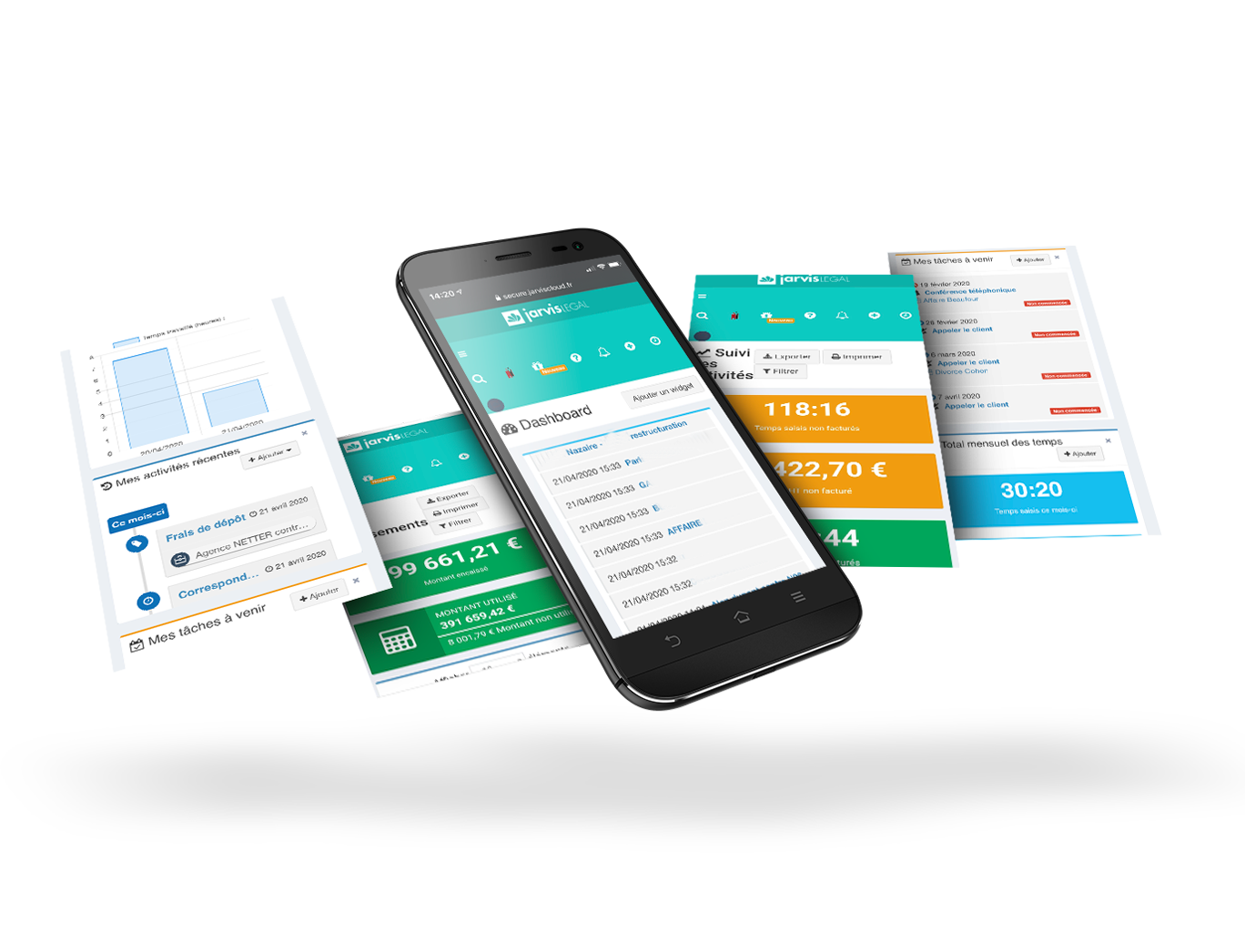 Accelerate your
digital transformation
With Jarvis, your digital transformation gets real in a matter of days. Our dedicated Customer Success team is here to assist you before, during and after the implementation. You quickly save several hours every day. The return on investment is immediate.
The Cloud power
Our solutions are plug-and-play and are just waiting for you. Everything is being implemented without any impact on your team daily operations.
A dedicated team
An entire team is dedicated to assist you throughout the project. From the data migration to the training of your team members, we remain at your side.
saved every month/teammate
savings on your IT budget
Facilitate your digital transformation
More automation.

Less
time wasted
Accelerate your digital transformation thanks to a 100% Cloud-based solution hosted in France. No more time-consuming and costly server deployments. You're up and running in a matter of minutes. Immediately enjoy Jarvis Legal and digitalize your law firm to remain operational under any circumstances. You can access your documents, matters or invoices from anywhere, from any device at any time. Even offline.
Jarvis is a genuine Cloud-based solution designed for legal professionals that allows you to significantly reduce your costs. You no longer need servers or shared NAS drives, you reduce your investment budgets as well as your operating costs. You improve your cashflow position and keep a safety cushion.
They
trust
us
Trusted by thousands of users in France, USA and in more than 30 countries worldwide.
Anne-Charlotte Moulins Esq.
Alter Avocats - Bordeaux
Perfect Customer Support team! Always get relevant answers to my questions in a matter of messages.
Clémence Michaud Esq.
Avocate - Bordeaux
With Jarvis Legal, I can focus on my key tasks and developing my clientele. Immediate grasp of the software thanks to a hyper professional trainers.
Etienne Deshoulieres Esq.
Deshoulieres Avocats - Paris
The learning curve was really quick. Every associate at the firm manages their time-tracking and billing. I only have to validate invoices. I have considerably saved time on the whole billing process.
This pages may
interest you
Subscribe to our newsletter
Receive our latest information, files and articles to help you on a daily basis!

The software for lawyers and legal departments
© 2023 Jarvis Legal. All rights reserved.