Drive for lawyers: centralize all your documents in one place safe
No longer store your documents on a multitude of servers and computers. Don't waste any more time searching for a file you need to immediately send out. Don't waste any more time and energy trying to connect via a remote access to your document storage space. Jarvis offers a document management solution that is 100% centralized and secure.
Professional document storage space
Accessible
from anywhere
Jarvis offers a cloud-based document storage space that is 100% secure and hosted in France. You can access your document storage space from anywhere, from any device at anytime. It's so convenient and reassuring to be able to access your files from your computer, tablet or smartphone. The powerful search engine makes you save a great deal of time and efforts. There is only one current version for every document. This way, your team members access the same version of a document and can edit it collaboratively in real time.
Dedicated team at your side
Accessible from Mac, PC and mobile
Secure file sharing
Share unlimited files
securely
Don't put your documents and that of your clients at risk. You benefit from a 100% secure file sharing solution, which offers a broad spectrum of options like the expiration date or password protection for shared links. The recipients can read the documents without downloading them. Even from a mobile device.
Share unlimited files of all sizes and types. The recipients can easily and directly access them directement, without additional any software or applications. You add value to your services and guarantee the strict confidentiality of the shared information.
Stay perfectly informed: as soon as files are uploaded in the document storage space, you are notified and can instantly access them.
Optimized collaboration
Enhance
the work of your team
Your team members easily access a shared document storage space which offers them a lot of possibilities to interact with each other, organize and follow up on the work done. You keep control on the access rights and set permissions on a user, team, direction or entity basis. Your teams benefit from advanced features like collaborative online editing, online chat, comment sections, redlining notes and history for a precise review. They work on all types of files, from their own computer or directly online from their web browser.
Harmonization
Adopt new
common
practices
Whenever you add a matter in Jarvis, Jarvis Drive automatically creates the corresponding matter folder with a customizable set of default subfolders within. All the teams share the same way of working as well as common practices. They are better organized, more efficient. You no longer lose any documents and quickly find the information you need. You make sure your teams are well-coordinated and work in harmony.
Your documents are always stored in the right place. All the team members adopt and share the same work habits. They are more efficient and no longer waste time trying to understand how other services are organized. Everything is more logical, simpler and easier.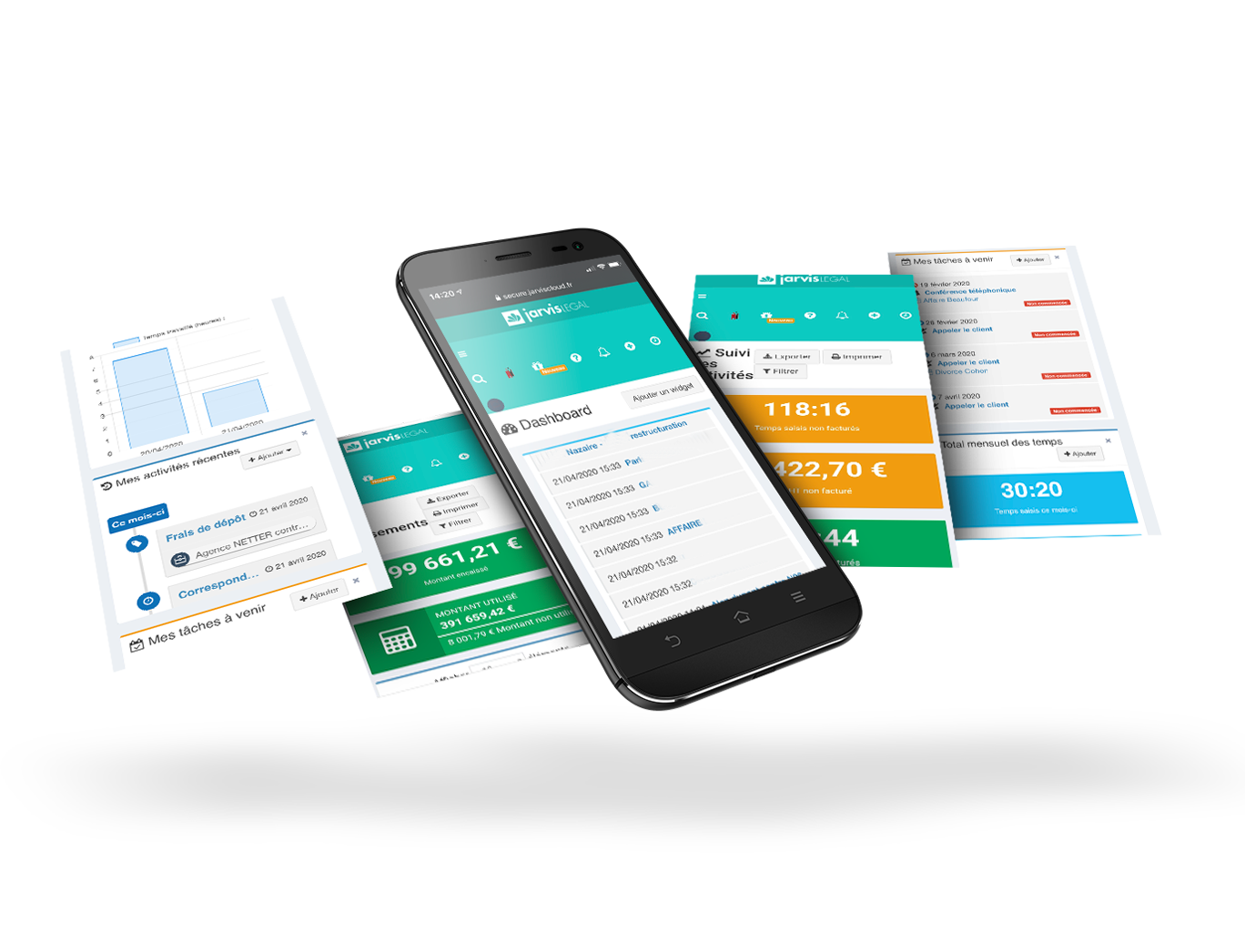 Accelerate your
digital transformation
With Jarvis, your digital transformation gets real in a matter of days. Our dedicated Customer Success team is here to assist you before, during and after the implementation. You quickly save several hours every day. The return on investment is immediate.
The Cloud power
Our solutions are plug-and-play and are just waiting for you. Everything is being implemented without any impact on your team daily operations.
A dedicated team
An entire team is dedicated to assist you throughout the project. From the data migration to the training of your team members, we remain at your side.
saved every month/teammate
savings on your IT budget
Document storage space JarvisDrive
Stay organized
in the long term
Don't worry about organizing your folders, Jarvis does it for you! You can customize the name of the matter folders and default subfolders within that you want to see whenever a matter is created. Jarvis takes care of the rest.
They
trust
us
Trusted by thousands of users in France, USA and in more than 30 countries worldwide.
Anne-Charlotte Moulins Esq.
Alter Avocats - Bordeaux
Perfect Customer Support team! Always get relevant answers to my questions in a matter of messages.
Clémence Michaud Esq.
Avocate - Bordeaux
With Jarvis Legal, I can focus on my key tasks and developing my clientele. Immediate grasp of the software thanks to a hyper professional trainers.
Etienne Deshoulieres Esq.
Deshoulieres Avocats - Paris
The learning curve was really quick. Every associate at the firm manages their time-tracking and billing. I only have to validate invoices. I have considerably saved time on the whole billing process.
At the
heart
of the legaltech
For more than 7 ans, Jarvis Legal has been an active leader of the legaltech ecosystem, developing innovative technologies to better our users.
This pages may
interest you
Subscribe to our newsletter
Receive our latest information, files and articles to help you on a daily basis!

The software for lawyers and legal departments
© 2022 Jarvis Legal. All rights reserved.