eSignature for lawyers and legal departments
Why wasting time traveling to get a simple signature. Although some procedures require you or your client to be physically present, the majority of signatures could be done remotely. Jarvis Legal offers an e-signature module designed for lawyers and legal departments.
e-Signature
Convenient and
ax
Mobility and teleworking are becoming more and more important in your day-to-day life but also on your clients side. That's why Jarvis has developed an e-signature module to allow you to send documents out for signature to your clients, contacts or even team members.
Dedicated team at your side
Accessible from Mac, PC and mobile
Seamless integration
e-Signature
integrated
into your software
Directly integrated into your document storage space, this feature allows you to sign any PDF documents in a few clicks. You just have to select the recipients, drag-and-drop the corresponding signature tags and you're done! The recipients will receive an email notification to access the document they need to sign. They can securely e-sign it thanks to a security code sent by text.
Real time notifications
e-Signature instantly
notified
Once the document is signed by all the recipients, you receive an email notification with the signed document attached. To make it even easier for you, the signed document is automatically be uploaded into your document storage space in Jarvis. Get documents signed has never bean easier!
Time savings and professionalism
Digitize
your firm
With the e-signature for lawyers, you can offer a new experience to your clients. You and your clients don't have to travel to sign documents: you save time, are more flexible and look even more professional.
In a few clicks, the document is sent out for signature.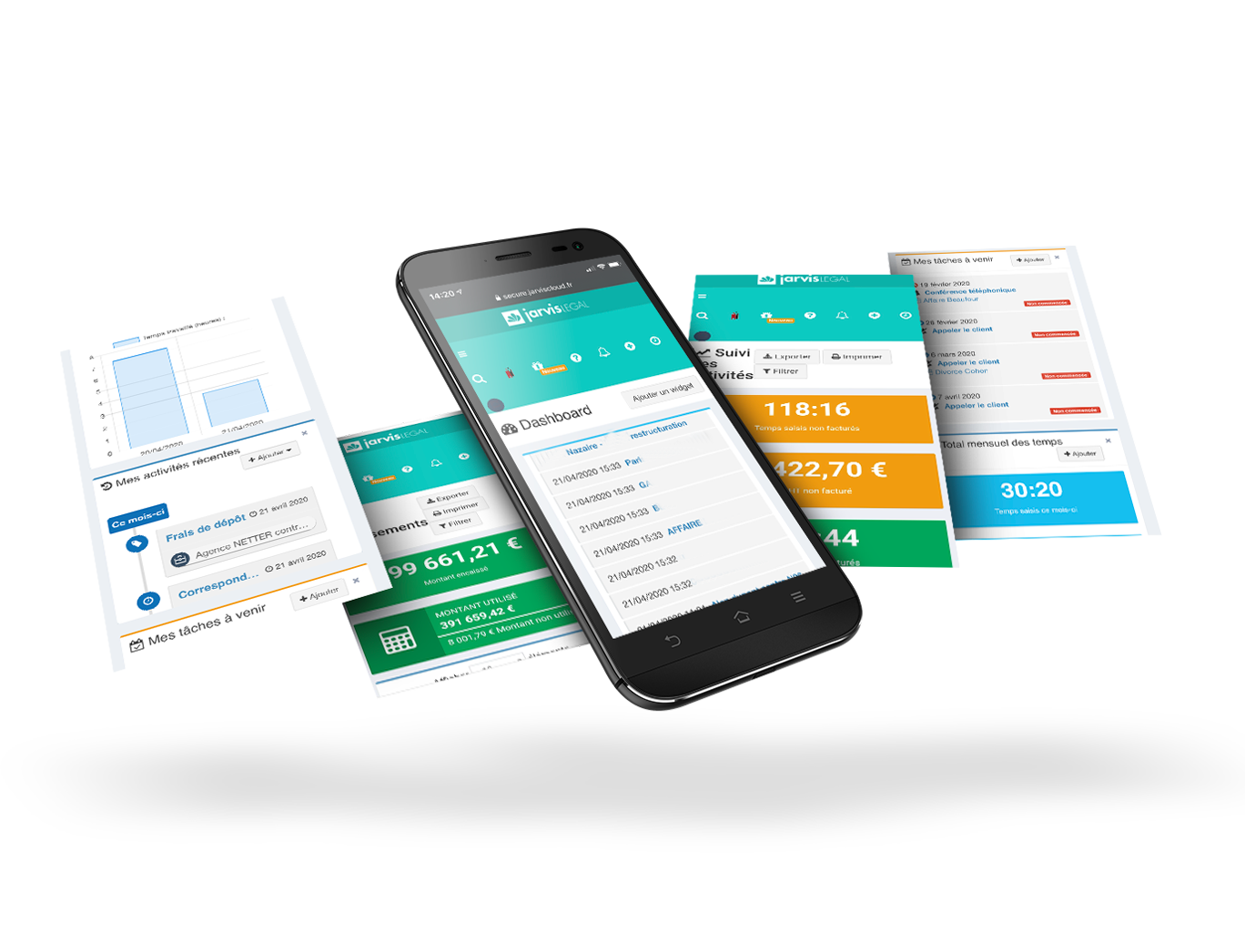 Accelerate your

digital transformation
With Jarvis, your digital transformation gets real in a matter of days. Our dedicated Customer Success team is here to assist you before, during and after the implementation. You quickly save several hours every day. The return on investment is immediate.
Cloud power
Our solutions are plug-and-play and are just waiting for you. Everything is being implemented without any impact on your team daily operations.
A dedicated team
An entire team is dedicated to assisting you throughout the project. From the data migration to the training of your team members, we remain at your side.
saved every month/teammate
savings on your IT budget
Certified
Legally recognized
in France and in Europe
The use of e-signature for lawyers is subject to strict and closely-monitored regulations. In Europe, the eIDAS regulation defines and confers the-signature its legal power. It's been integrated into the EU members national codes (for France in the articles 1366 and 1367 of the civil code).
Only solutions offered by trustworthy and certified providers can be used to benefit from legal e-signatures. We are working with such best-in-class technology providers for our solution.
They
trust
us
Trusted by thousands of users in France, USA and in more than 30 countries worldwide.
Anne-Charlotte Moulins Esq.
Alter Avocats - Bordeaux
Perfect Customer Support team! Always get relevant answers to my questions in a matter of messages.
Clémence Michaud Esq.
Lawyer - Bordeaux
With Jarvis Legal, I can focus on my key tasks and developing my clientele. Immediate grasp of the software thanks to a hyper professional trainers.
Etienne Deshoulieres Esq.
Deshoulieres Avocats - Paris
The learning curve was really quick. Every associate at the firm manages their time-tracking and billing. I only have to validate invoices. I have considerably saved time on the whole billing process.
At the
heart
of the legaltech
For more than 7 years, Jarvis Legal has been an active leader of the legaltech ecosystem, developing innovative technologies to better our users.
These pages can help you
to interest
Subscribe to our newsletter
Receive our latest information, files and articles to help you on a daily basis!

The software for lawyers and legal departments
© 2023 Jarvis Legal. All rights reserved.