Jarvis Analytics: the decision-support tool for legal professionals
Follow your team performance indicators to take the right decisions at the right time. Jarvis Analytics offers intuitive and interactive dashboards for your to instantly access relevant and reliable data about your firm. You can identify potential red flags more easily and quickly react to make sure to meet your objectives.
Easily access the
most relevant
data
Jarvis Analytics provides you with core metrics about your organization and teams. You know where you stand at anytime. It allows you to have a better understanding and elaborate a winning strategy. Time worked, billables, number of matters by practice area… leverage your data like never before.
Dedicated team at your side
Accessible from Mac, PC and mobile
Be very
reactive
thanks to real-time data
Everything is automatic and dynamic in Jarvis Analytics: graphs are customizable and updated in real time. As soon as a partner, associate, or an assistant enters a new information in Jarvis, it's immediately reflected in Jarvis Analytics. You always have access to the latest information available. You easily identify potential red flags and can take corrective actions. You no longer depend on Excel spreadsheets that have to be manually updated and sent by mail. From now on, you always have updated dashboards available from any device, from anywhere at anytime.
No longer waste time
with Excel spreadsheets
With Jarvis Analytics, you no longer have to spend countless hours extracting data from your tools and putting them together on Excel. You save a dozen of hours monthly, put less pressure on your team to produce reports, and obtain a better and more reliable output. Get rid of Excel and access your dashboards at anytime, from your smartphone or tablet, whether you're seating at the office or on your living-room couch.
80 performance indicators
at your disposal
Benefit from a set of default indicators to immediately create your own dashboard. Team productivity, billables, number of cases by team, top 10 of clients, unpaid bills amount, invoices breakdown, average hourly rate... You need other indicators? Jarvis Analytics is customizable and allows you to match every data available in your application. We can go as far as your creativity goes.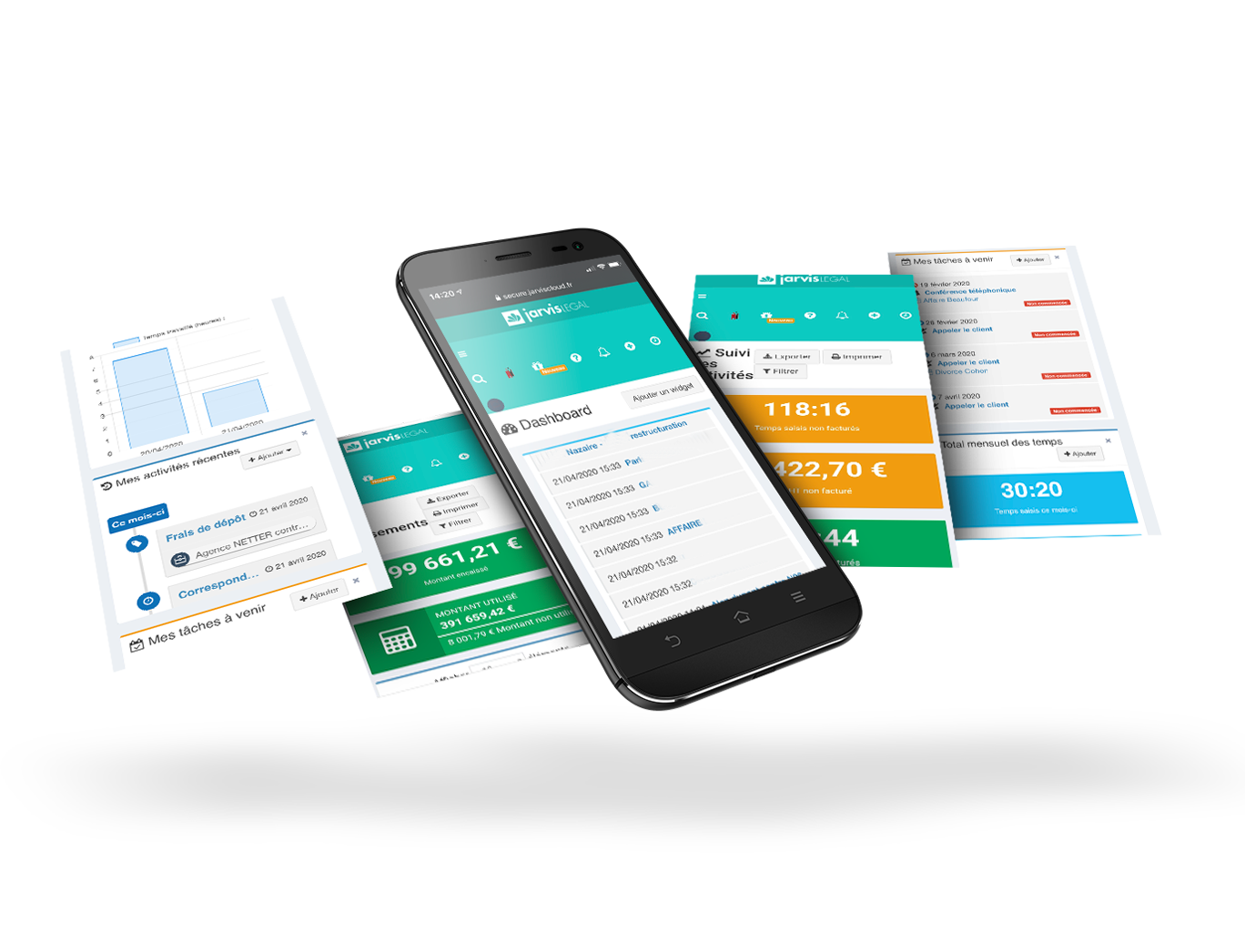 Accelerate your
digital transformation
With Jarvis, your digital transformation gets real in a matter of days. Our dedicated Customer Success team is here to assist you before, during and after the implementation. You quickly save several hours every day. The return on investment is immediate.
The Cloud power
Our solutions are plug-and-play and are just waiting for you. Everything is being implemented without any impact on your team daily operations.
A dedicated team
An entire team is dedicated to assist you throughout the project. From the data migration to the training of your team members, we remain at your side.
saved every month/teammate
savings on your IT budget
More automation,
less time compiling data
With Jarvis Analytics, you can focus on analyzing data and organizing your team to set them for success rather than spending time on updating reports that will be outdated the following week. You boost your team and better communicate with your management by sharing them key metrics with them.
They
trust
us
Trusted by thousands of users in France, USA and in more than 30 countries worldwide.
Anne-Charlotte Moulins Esq.
Alter Avocats - Bordeaux
Perfect Customer Support team! Always get relevant answers to my questions in a matter of messages.
Clémence Michaud Esq.
Avocate - Bordeaux
With Jarvis Legal, I can focus on my key tasks and developing my clientele. Immediate grasp of the software thanks to a hyper professional trainers.
Etienne Deshoulieres Esq.
Deshoulieres Avocats - Paris
The learning curve was really quick. Every associate at the firm manages their time-tracking and billing. I only have to validate invoices. I have considerably saved time on the whole billing process.
At the
heart
of the legaltech
For more than 7 ans, Jarvis Legal has been an active leader of the legaltech ecosystem, developing innovative technologies to better our users.
These pages may
interest you
Subscribe to our newsletter
Receive our latest information, files and articles to help you on a daily basis!

The software for lawyers and legal departments
© 2023 Jarvis Legal. All rights reserved.