Performance monitoring
Track your team activities thanks to our well-designed and efficient dashboards. You have access to dynamic and live data. You have all the information you need to assess the performance of your team members and overall progress towards their objectives.
More automation.
Less
time wasted.
Imagine fully automated dashboards that you can access from anywhere at anytime. Even from your smartphone. You're not dreaming, it's now real with Jarvis.
Interactive
Hover over graphs to display the detailed information of every component. Display the underlying data to have access to even more details behind the graphs or reports to have a better understanding of them.
Customizable
Graphs and widgets are customizable at will. You can edit them live and select a new the layout to change their appearance. They are automatically updated live to reflect your preferences. You focus on the analysis of indicators and let Jarvis Analytics do the rest.
Reliable
The information displayed in the form of graphs or widgets are directly pulled from your database. No need to do manual adjustments, the data displayed are perfectly reflecting your own database.
In real time
No longer waste any more time asking for reports and pivot tables from your teams. You have access to your team performance indicators updated in real time. You benefit from first hand information to make the right decisions.
Mobile
Bring your indicators and dashboards always with you. You can access them from anywhere at anytime. From your laptop, smartphone or tablet, you instantly see dynamic and live graphs.
80 indicators
Jarvis Analytics, it's 80 ready-to-use performance indicators that you can select and organize as you wish. This way you can keep track of the most relevant indicators, which show the real performance level of your teams and services.
Dedicated team at your side
Accessible from Mac, PC and mobile
In real time
No longer run
after reports to know where you stand
Always access up-to-date dashboards directly from Jarvis. Benefit from live and reliable information based on the activities entered by your teams and team members. You always know where you stand on your matters, financial commitments, number of matters created, the number of hours worked, your clients top 10 and much more.
Mobile
You dashboards
always with you,
even on the go
Access your performance indicators from anywhere when you want to. They directly appear on your smartphone or tablet. Thank to their responsive design, they are automatically reshaped to fit the size of your screen. You have access to live information for you to be reactive even when working remotely. You manage your teams based on updated and reliable data. It's simple.
80 indicators
Enjoy the KPIs we've prepared
for you
Make your day-to-day work easier by using performance indicators that we designed for you. You start in seconds and have access to elegant and accurate graphs. You need another indicator? You want to compute data in another way? Your account manager will make it available for you in few hours. It will then be directly available in your dashboard. That's the power of the Cloud.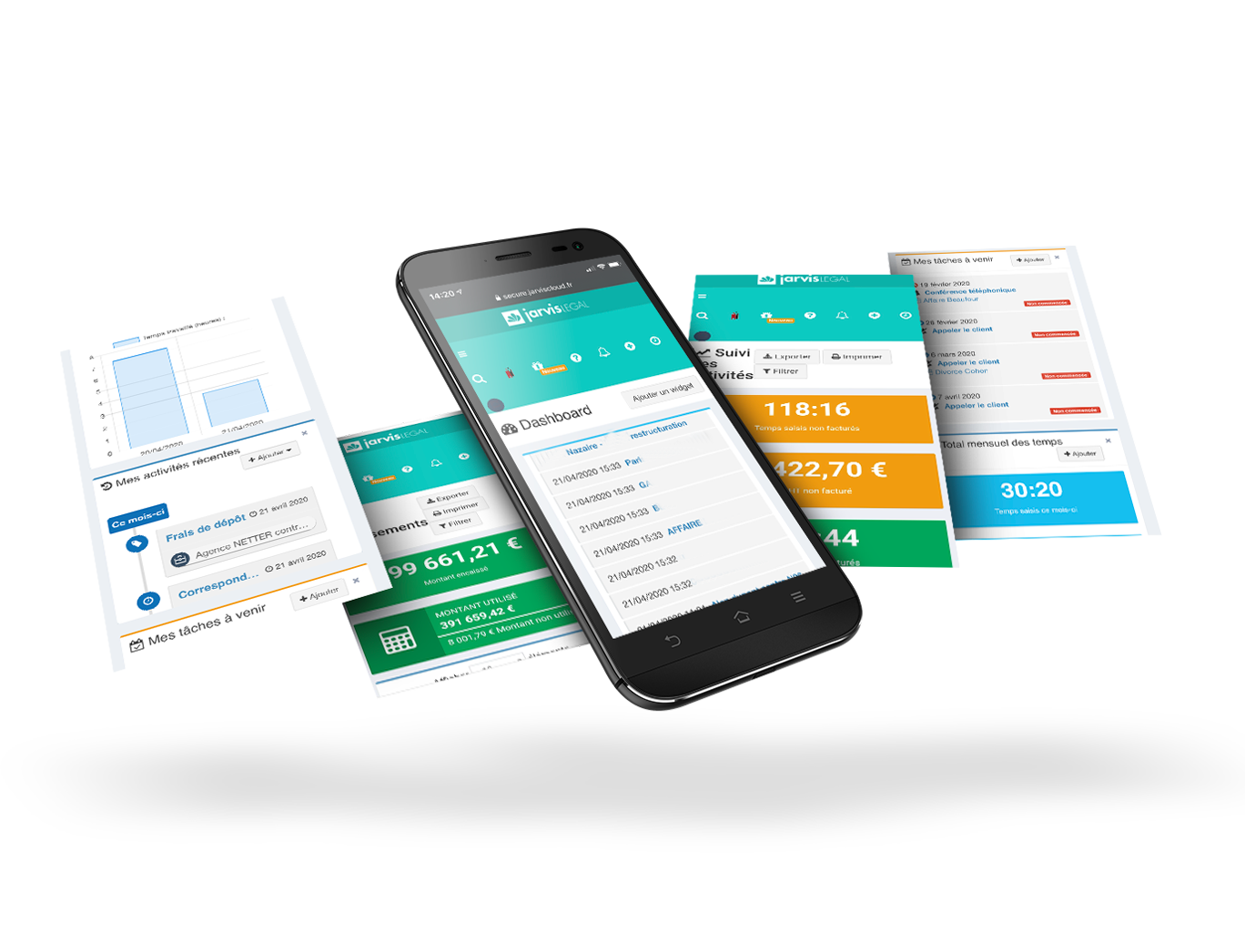 Accelerate your
digital transformation
With Jarvis, your digital transformation gets real in a matter of days. Our dedicated Customer Success team is here to assist you before, during and after the implementation. You quickly save several hours every day. The return on investment is immediate.
The Cloud power
Our solutions are plug-and-play and are just waiting for you. Everything is being implemented without any impact on your team daily operations.
A dedicated team
An entire team is dedicated to assist you throughout the project. From the data migration to the training of your team members, we remain at your side.
saved every month/teammate
savings on your IT budget
Facilitate your digital transformation
More automation.
Less
time wasted
Accelerate your digital transformation thanks to 100% Cloud-based solution hosted in France. No more time-consuming and costly server deployments. You're up and running in a matter of minutes. Immediately enjoy Jarvis Legal and digitalize your law firm to remain operational under any circumstances. You can access your documents, matters or invoices from anywhere, from any device at any time. Even offline.
Jarvis is a genuine Cloud-based solution designed for legal professionals that allows you to significantly reduce your costs. You no longer need servers or shared NAS drives, you reduce your investment budgets as well as your operating costs. You improve your cashflow position and keep a safety cushion.
They
trust
us
Trusted by thousands of users in France, USA and in more than 30 countries worldwide.
Anne-Charlotte Moulins Esq.
Alter Avocats - Bordeaux
Perfect Customer Support team! Always get relevant answers to my questions in a matter of messages.
Clémence Michaud Esq.
Avocate - Bordeaux
With Jarvis Legal, I can focus on my key tasks and developing my clientele. Immediate grasp of the software thanks to a hyper professional trainers.
Etienne Deshoulieres Esq.
Deshoulieres Avocats - Paris
The learning curve was really quick. Every associate at the firm manages their time-tracking and billing. I only have to validate invoices. I have considerably saved time on the whole billing process.
This pages may
interest you
Subscribe to our newsletter
Receive our latest information, files and articles to help you on a daily basis!

The software for lawyers and legal departments
© 2022 Jarvis Legal. All rights reserved.