Jarvis, the legal practice management software by nature
The best online legal practice management solution for your files, documents, invoices and collections that simplifies your daily life and communication between your teams and with your clients. Jarvis is the ideal lawyer software!
Start your
firm
without hassle
Like you, we are entrepreneurs at heart. We know the upside and downside of it. This is why we packaged a free version for you to start your firm without hassle.
100% free plan
Preserve your
cashflow
thanks to our free version
Create the conditions for success with Jarvis One, a 100% free legal practice management software. Jarvis One is a 100% web-based solution that comes with significant advantages: from day 1, you have an all-in-one software to manage your firm without having to spend a penny. You stack all the odds in your favor to succeed in your venture.
Unique support
Access to
a multitude
of help materials
Our teams are doing everything to provide you with useful content: webinars, tutorials, articles, phone, blog. Everything is done for your to work under the best conditions.
Document storage space
Store your documents in
one place safe
Quickly and easily access all your documents in Jarvis document storage space. You can store all the versions of documents and can customize the folders organization. Go around email limitations and send large files to clients, experts of any other parties using secure sharing links.
Manage your individual practice
as well as
your collaboration with the firm
No longer waste time juggling your individual practice and collaboration with the firm. Develop your own clientele and build your success thanks to your legal practice management software.
Organize your matters
Manage your clientele like
a pro
Be as efficient with your own practice as well as when you are when working for the firm. In Jarvis, everything is well organized and sorted. You longer wasting time on trying to find information. Matters gather all the data you need: documents, time entires, expenses, outlays, emails, calendars and invoices.
Augmented counsel
Focus on your
clients
thanks to your legal software
No longer waste time filing documents, organizing matters or drafting contracts. Focus on your missions and on your objectives. Jarvis takes care of the rest . With Jarvis, you save on average 44 hours every month that you can reallocate to what you do best: practicing law.
At your service
Rely on our team to
assist you
Our customer Success team is here to help you. Your dedicated Success Manager replies to your questions via our chat, by email or by phone. Detailed support materials are also available 24/7: on-line training, webinars, tutorials, articles, support par mail, blog. We do everything to always keep you satisfied.
Keep track of your team productivity
in real time
Take decisions based on reliable information and data provided by your legal software. Monitor performance indicators to assess the revenues trend, time worked and billed, number of ongoing matters , amount of unpaid bills… in real time.
Controlled autonomy
Create the conditions
of success
with you legal software
Give your team access to an all-in-one and intuitive application while keeping control of what's being done. Increase your billings: every team member enters their activities, manage theirs documents and share them with client or other parties via a secure data room. Set billable time objectives for the year and keep track of the progress towards these objectives.
In real time
See the performance of your team
live
Access different dashboards updated in real time directly form Jarvis. You're in control of the progress on the matters, invoices sent and payments received from clients... Free your team from non-productive tasks: graphs are automatically updated in real time. You can access them from anywhere from any device. You always have all the information you need to coordinate the work to be done by your team.
Pofiles and access rights
Define
profiles and access rights
for your team members
Grant permissions and access rights to your team members depending on their functions within the firm : full-access for managers, limited access for associates and interns, read-only for your accountant. Adjust your license depending on your needs in terms of features.
Simplify your firm
financial and accounting
management
No longer run after your staff for their time sheets or expense reports. Get rid of all the paperwork and painful admin work. Benefit from a robust billing system, a detailed payment tracking system and accounting exports to integrate all these data into your accounting software.
Fully customizable
In line with your own
chart of accounts
Our application automatically links time or expense entries to the right accounting accounts. Even better, these accounting accounts are entirely customizable. You save a lot of time on your accounting follow-up.
Simplified imports
Import data in
your accounting software
Simplify your firm financial and accounting management. Jarvis is compatible with a dozen of accounting software. Importing your accounting data into your accounting software has never been easier!
Unmatched efficiency
Keep track of payments
in real time
You have access to dashboards updated in real time. Aged Accounts Receivables, outstanding amount, average payment collection time are all updated automatically. You can view these indicators from any device from anywhere at anytime.
Dedicated team at your side
Accessible from Mac, PC and mobile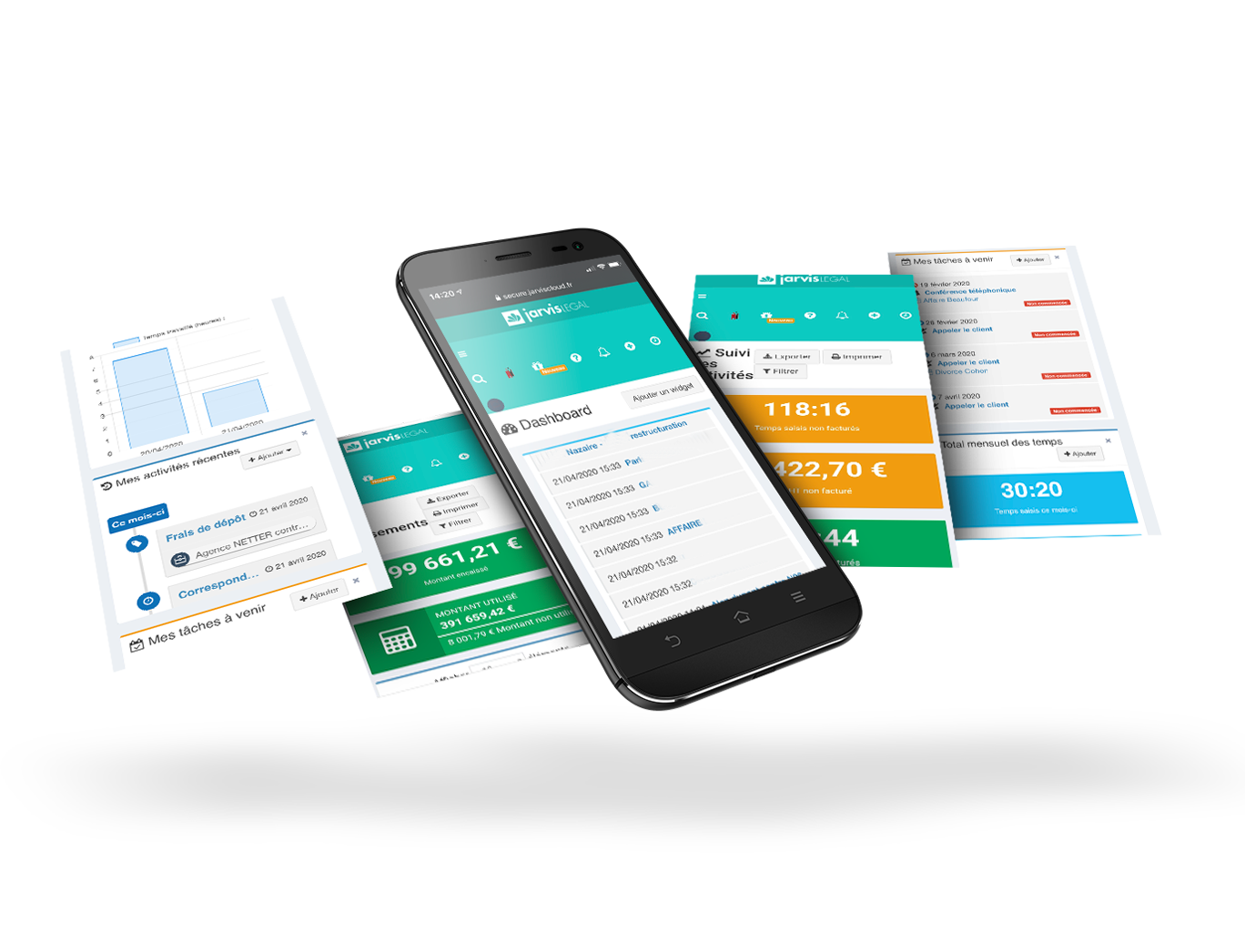 Accelerate your
digital transformation
With Jarvis, your digital transformation gets real in a matter of days. Our dedicated Customer Success team is here to assist you before, during and after the implementation. You quickly save several hours every day. The return on investment is immediate.
The Cloud power
Our solutions are plug-and-play and are just waiting for you. Everything is being implemented without any impact on your team daily operations.
A dedicated team
An entire team is dedicated to assist you throughout the project. From the data migration to the training of your team members, we remain at your side.
saved every month/teammate
savings on your IT budget
Facilitate your digital transition
More automation.
Less time wasted
with a Lawyer software.
Accelerate your digital transition with a fully hosted solution on the Cloud. Forget long and tedious deployment projects. You'll be up and running in just a few minutes. Take advantage of Jarvis Legal, legal software, immediately and digitize your practice to be operational in any circumstance. You have constant access to your files, invoices and documents, wherever you are, from any equipment and at any time. Even offline.
Real Cloud solution developed for lawyers, you reduce your costs. Computer equipment such as NAS or servers are no longer necessary. You reduce investment budgets as well as operating costs. You save your cash flow and keep some leeway.
The Augmented Lawyer era
The management software that
accelerates the digital transformation
of your office
Collaborative, mobile and equipped with an intuitive interface, Jarvis Lawyer software, makes you save 44 hours per month while modernizing the firm's image with your clients and employees. A complete management solution entirely Cloud-based and hosted on datacenters exclusively located in France, you benefit from the best of innovation to digitalize your firm.
They
trust
us
Trusted by thousands of users in France, USA and in more than 30 countries worldwide.
Anne-Charlotte Moulins Esq.
Alter Avocats - Bordeaux
Perfect Customer Support team! Always get relevant answers to my questions in a matter of messages.
Clémence Michaud Esq.
Avocate - Bordeaux
With Jarvis Legal, I can focus on my key tasks and developing my clientele. Immediate grasp of the software thanks to a hyper professional trainers.
Etienne Deshoulieres Esq.
Deshoulieres Avocats - Paris
The learning curve was really quick. Every associate at the firm manages their time-tracking and billing. I only have to validate invoices. I have considerably saved time on the whole billing process.
At the
heart
of the legaltech
For more than 7 ans, Jarvis Legal has been an active leader of the legaltech ecosystem, developing innovative technologies to better our users.
These pages may
interest
you
Subscribe to our newsletter
Receive our latest information, files and articles to help you on a daily basis!

The software for lawyers and legal departments
© 2023 Jarvis Legal. All rights reserved.