Time-tracking and billing software for lawyers
Dedicate more time to your growth. Don't waste energy on recurring and painful tasks or complex processes. Make time-keeping super easy to avoid any oversights and create good-looking and accurate invoices in few seconds.
More automation.
Less
time wasted
Our application is both user-friendly and efficient. From time entries to client payments, you save time every step of the way.
Intuitive
Entering activities is simple and only takes few seconds. Generating invoices based on your own templates is even quicker.
Mobile
Going out of a meeting or hearing, you can easily keep track of your time from your smartphone. You can bill your time right away or prepare a recap invoice in a matter of seconds.
Perfect coordination
Matters are updated live as participants enter new activities. You know where you stand thanks to financial widgets and decide when you should start billing your clients.
Customizable
You can customize the categories, descriptions and amounts of time entries, flat fees, expenses and outlays to reflect your practice area and billing specificities.
Accurate monitoring
You have a complete and detailed view to start sending payment reminders to clients at the right time. Accurately bill depending on the client or matter profile without losing the information on initial time worked or write-offs.
Reliable
Automatically generate invoices to avoid any mistakes. You save a lot of time and significantly improve client satisfaction. As well as their trust in your firm.
Dedicated team at your side
Accessible from Mac, PC and mobile
Make time keeping
simple and easy
Our application allows your team to input their time as soon as a meeting, call or hearing ends. Seating on a train or in a taxi, they enter their time in the right matters. It's as easy as sending emails. They can start a new timer when receiving a phone call and pause the previous timer regarding the writing of conclusions on another matter. 
Generate invoices
in record time
Billing clients has never been that simple and efficient! No longer stress at the end of the month and make the billing process simpler for your team. Send unlimited invoices in a matter of seconds.The final result is astonishing: invoices are automatically generated in Word and PDF based on your own invoice template. You just have to send them by email to your clients directly from Jarvis. To save even more time, we added shortcut buttons on every pages of the billing menu. You can then easily export your transactions and import them in your accounting software.
Apply the
right rates
when billing clients
Trust Jarvis to apply the billing rates agreed with each and everyone of your clients. Some can benefit from a specific rate on all their matters, or just on a given matter or from a discounted rate based on the participants profiles. In any case, you can trust Jarvis to automatically generate bills with the right applicable rate. You save a lot of time and make sure billing is done correctly. You avoid any mistakes that could pave the way for client disputes. On the contrary, your clients are more willing to pay you on time.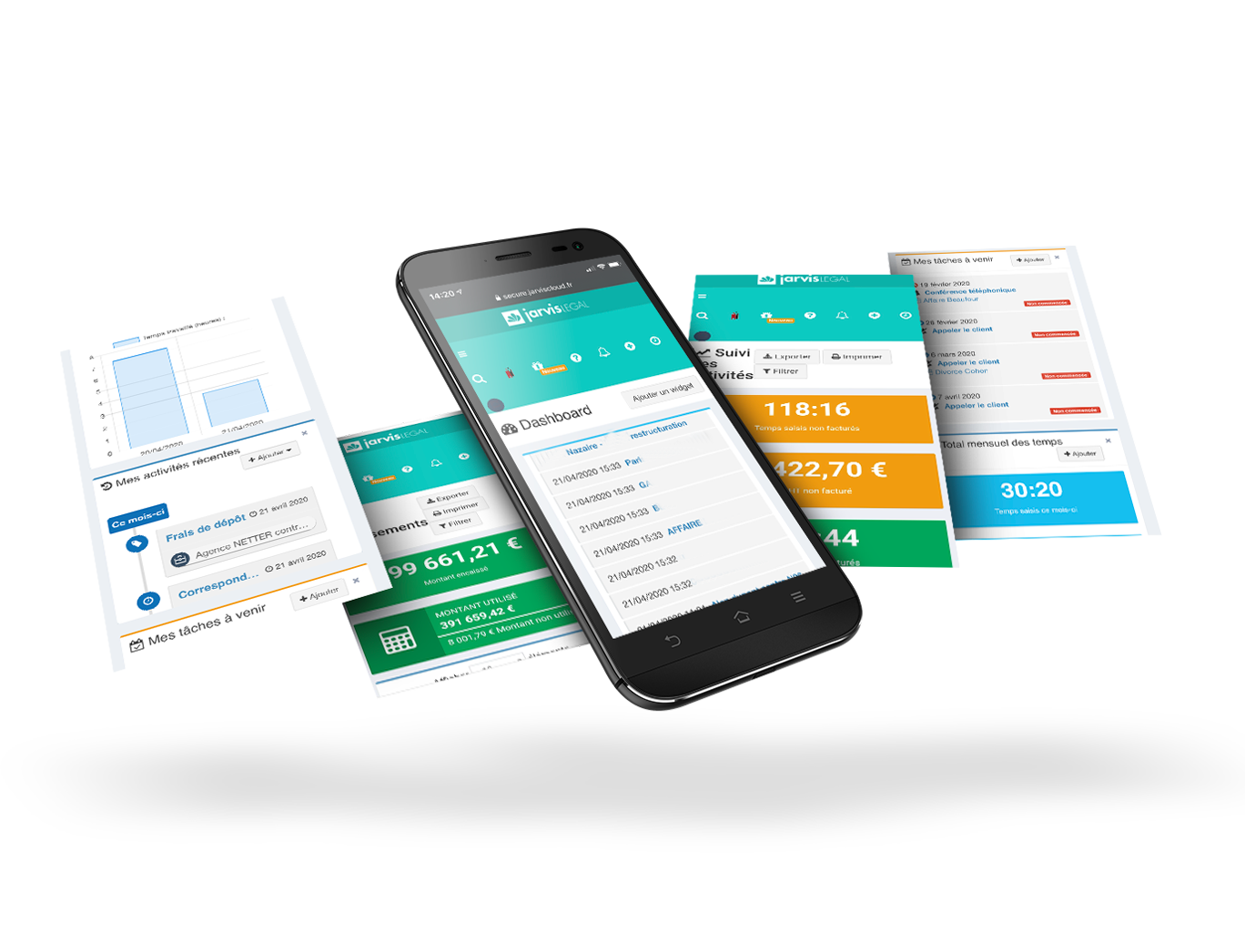 Accelerate your
digital transformation
With Jarvis, your digital transformation gets real in a matter of days. Our dedicated Customer Success team is here to assist you before, during and after the implementation. You quickly save several hours every day. The return on investment is immediate.
The Cloud power
Our solutions are plug-and-play and are just waiting for you. Everything is being implemented without any impact on your team daily operations.
A dedicated team
An entire team is dedicated to assist you throughout the project. From the data migration to the training of your team members, we remain at your side.
saved every month/teammate
savings on your IT budget
More automation.
Less
time wasted
Accelerate your digital transformation thanks to a 100% Cloud-based solution hosted in France. No more time-consuming and costly server deployments. You're up and running in a matter of minutes. Immediately enjoy Jarvis Legal and digitalize your legal practice to remain operational under any circumstances. You can access your matters, emails and documents from anywhere, from any device at any time. Even offline.
Jarvis is a genuine Cloud-based solution designed for legal professionals that allows you to significantly reduce your costs. You no longer need servers or shared hard drives, you reduce your investment budgets as well as your operating costs. You improve your cashflow position and keep a safety cushion. 
They
trust
us
Trusted by thousands of users in France, USA and in more than 30 countries worldwide.
Anne-Charlotte Moulins Esq.
Alter Avocats - Bordeaux
Perfect Customer Support team! Always get relevant answers to my questions in a matter of messages.
Clémence Michaud Esq.
Avocate - Bordeaux
With Jarvis Legal, I can focus on my key tasks and developing my clientele. Immediate grasp of the software thanks to a hyper professional trainers.
Etienne Deshoulieres Esq.
Deshoulieres Avocats - Paris
The learning curve was really quick. Every associate at the firm manages their time-tracking and billing. I only have to validate invoices. I have considerably saved time on the whole billing process.
This pages may
interest you
Subscribe to our newsletter
Receive our latest information, files and articles to help you on a daily basis!

The software for lawyers and legal departments
© 2023 Jarvis Legal. All rights reserved.