Automated and reliable accounting exports
No longer waste time re-entering information that is already available in your software. Our application allows you to customize the accounting accounts to perfectly reflect your own chart of accounts. Jarvis is going to make your life easier.
Chirurgical precision
Convenient and
easy
Say goodbye to data entry work at the end of the month and  Excel spreadsheets. From now on, you benefit from accurate and reliable accounting journals, which are automatically generated by Jarvis. Every accounting entry refers to activities entered by participants, to bills sent out,, to payments, to credit notes… You have data that you can directly import in your accounting software. You benefit from a comprehensive and detailed view of your firm accounting situation in real time.
Dedicated team at your side
Accessible from Mac, PC and mobile
Reliable
Say
goodbye
to manual adjustments
From now on, Jarvis automates all the accounting entries and allows you to directly import them into your accounting software. All the financial and business activities that you must keep track of in your accounting books are automatically generated in the corresponding journals. Every entry reflects the accounting number that you defined so that you don't have to re-enter it nor check it.
Customization
You can
customize at will
your chart of accounts
In Jarvis, your can customize the accounting at will so that it perfectly fits your needs. From the description to the account number on 9 or less alphanumeric characters, you can make as many changes as needed for you to automate the accounting entry work and import in your accounting software. You can add as many tax or bank accounts as your firm or business requires. You can also manage auxiliary accounts for an analytical accounting. You share with your partners a better and more reliable vision.
Performance
No longer waste time
retrieving and adjusting data
Gather the right information when you need it. You always have access to your client account balance, to sales and cash journals. You can export the accounting entries on a given date range and directly import them in your accounting software in flew clicks only. You save a lot of time that you can allocate to your key missions like the year-end closing of accounts or the transmission of reliable and updated data to your partners.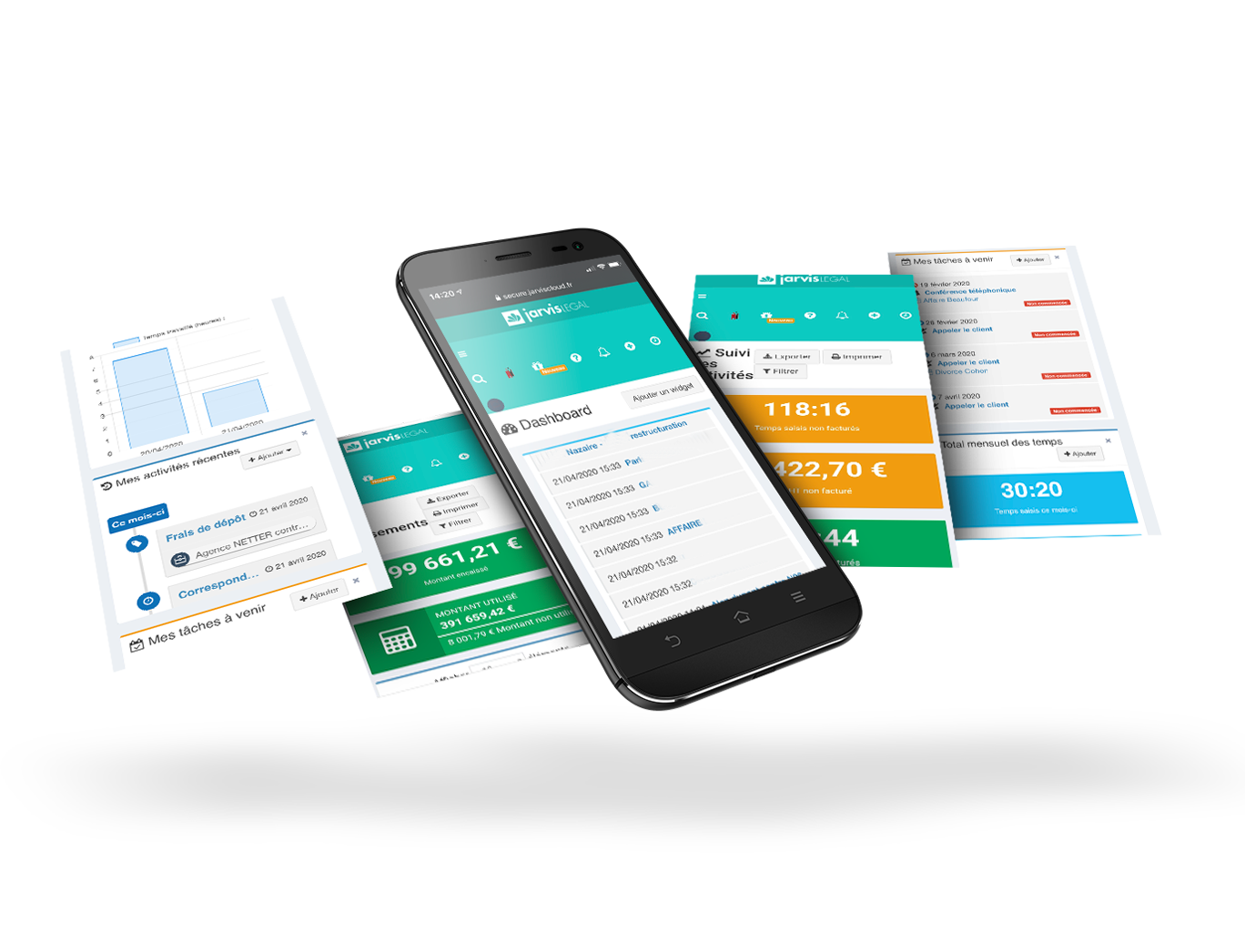 Accelerate your
digital transformation
With Jarvis, your digital transformation gets real in a matter of days. Our dedicated Customer Success team is here to assist you before, during and after the implementation. You quickly save several hours every day. The return on investment is immediate.
The Cloud power
Our solutions are plug-and-play and are just waiting for you. Everything is being implemented without any impact on your team daily operations.
A dedicated team
An entire team is dedicated to assist you throughout the project. From the data migration to the training of your team members, we remain at your side.
saved every month/teammate
savings on your IT budget
Business partner
Become a true
business partner
Our application immediately gives you access to reliable financial and accounting information that are updated in real time. This way, you're always sure to carry out analyses on solid data and quickly communicate your recommandations to your partners. You enhance your knowledge and competencies thanks to dynamic dashboards that you can send on a regular basis.
They
trust
us
Trusted by thousands of users in France, USA and in more than 30 countries worldwide.
Anne-Charlotte Moulins Esq.
Alter Avocats - Bordeaux
Perfect Customer Support team! Always get relevant answers to my questions in a matter of messages.
Clémence Michaud Esq.
Avocate - Bordeaux
With Jarvis Legal, I can focus on my key tasks and developing my clientele. Immediate grasp of the software thanks to a hyper professional trainers.
Etienne Deshoulieres Esq.
Deshoulieres Avocats - Paris
The learning curve was really quick. Every associate at the firm manages their time-tracking and billing. I only have to validate invoices. I have considerably saved time on the whole billing process.
At the
heart
of the legaltech
For more than 7 ans, Jarvis Legal has been an active leader of the legaltech ecosystem, developing innovative technologies to better our users.
This pages may
interest you
Subscribe to our newsletter
Receive our latest information, files and articles to help you on a daily basis!

The software for lawyers and legal departments
© 2023 Jarvis Legal. All rights reserved.