Billing software for lawyers: billing reinvented
Forget about the stress at the end of the month when it's time to bill your clients. We have reinvented billing to make it easier, quicker and more accurate. Your clients receive well-designed and detailed invoices, where they find all the information they need. You save time and get paid faster, thanks to our billing software designed for legal professionals.
Crystal-clear invoices
Strengthen your
client relationship
Automatically generate invoices based on your own templates. They contain all the information for your clients to easily review them. This way, clients are less challenging and pay faster.
Thanks to a clear and professional billing system, you build a trust relationship with your clients based on transparency. They will be thankful for providing them with reliable and detailed information, which is a guarantee of professionalism and experience.
With our legal billing software, you can edit individual invoices, invoices in batch, for one or several clients at a time.
Based on your own templates, your invoices inspire trust. Your clients pay you faster, you reduce your amount of receivables, and you guarantee your firm sustainability.
Dedicated team at your side
Accessible from Mac, PC and mobile
Flash billing
Generate bills
in record time
thanks to our legal billing software
With the right legal billing software, invoicing becomes simple and efficient! Put an end to the stress at the end of the month and simplify the work of your teams. Generate as many invoices as needed in seconds. The final result is impressive: invoices are automatically created in PDF based on your own templates and graphic charter. You just have to send them by email directly from Jarvis.
To make you save even more time, we have created shortcut buttons to quickly perform operations without leaving the screen you are working on. You can then easily export your accounting entries to your accounting software.
Customizable
Your invoices customizable
at will
You know your clients and what matters to them. You adjust your invoices on every matter to meet your clients expectations. You respect your commitments and value your expertise at the right price. The law firm's production is preserved, whatever changes are made to your invoices. You have access to the information you need to easily measure the difference between the time worked and the time billed, between initial and revised amounts. You adjust your pricing accordingly. You manage your teams based on reliable and precise financial indicators.
Unmatched accuracy
Apply the
right
billing rates
Trust Jarvis to apply the rates and terms agreed with each and every one of your clients. Some may benefit from a single rate on all their matters, some others from a specific rate depending on the participant's profile.
In all cases, you can be sure that your invoices will be automatically generated based on the commercial conditions related to the client. You save a lot of time and significantly improve your invoicing. This way, you avoid mistakes and potential disputes with clients. They are also more willing to pay you faster.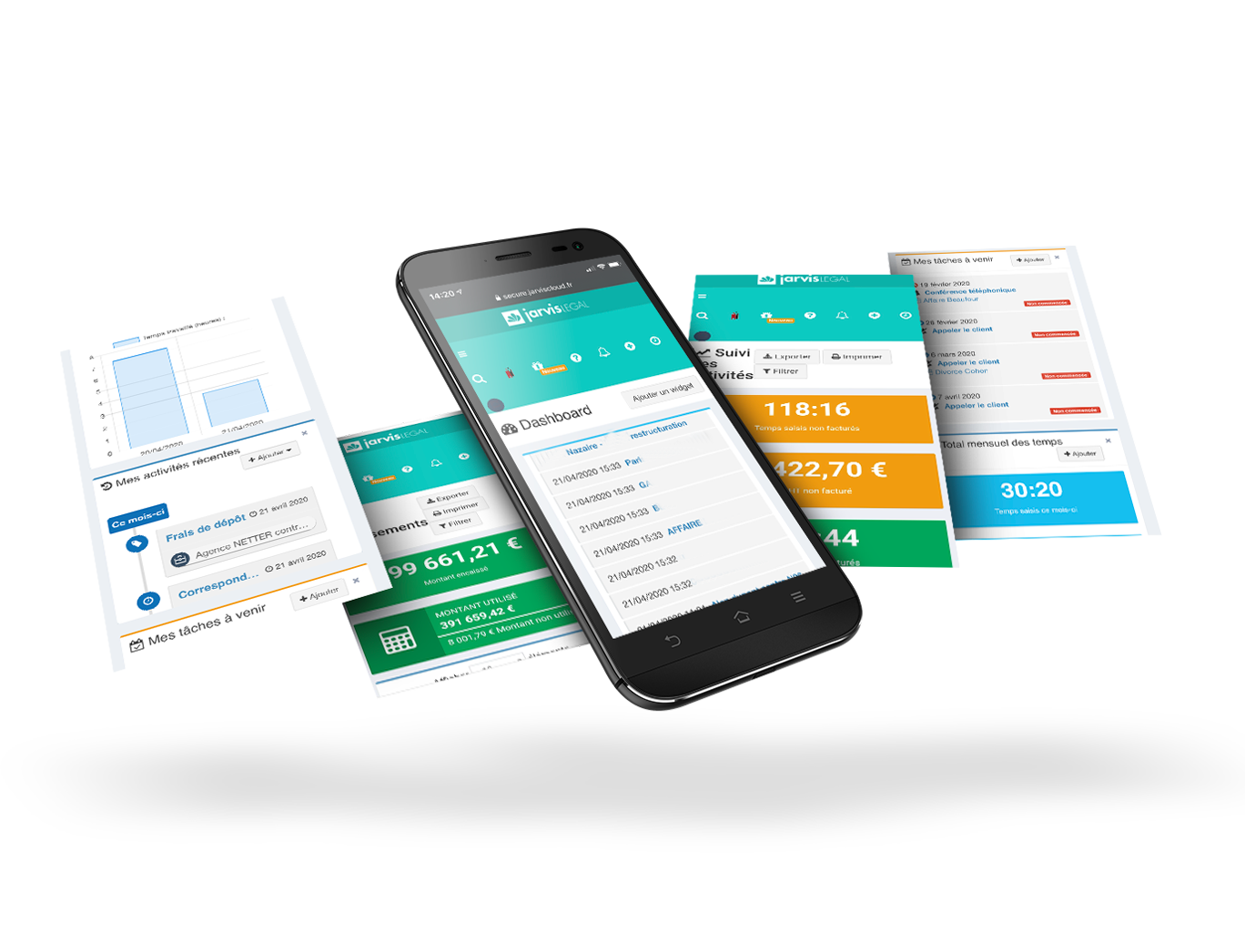 Accelerate your
digital transformation
With Jarvis, your digital transformation gets real in a matter of days. Our dedicated Customer Success team is here to assist you before, during and after the implementation. You quickly save several hours every day. The return on investment is immediate.
The Cloud power
Our solutions are plug-and-play and are just waiting for you. Everything is being implemented without any impact on your team daily operations.
A dedicated team
An entire team is dedicated to assist you throughout the project. From the data migration to the training of your team members, we remain at your side.
saved every month/teammate
savings on your IT budget
Total control
Don't
lose track
of what was done
No longer waste time calculating client billables every month. From now on, you know in real time where you stand in your invoicing.
Whether you are in a matter, in a client record or at the law firm level, the invoices have no more secrets for you. You know exactly whether the invoices were sent to the clients or if they need to be validated. You no longer waste time on searching for items endlessly.
You are directly notified as soon as an invoice requires an action. Everything is simpler when the information is centralized and easily accessible.
They
trust
us
Trusted by thousands of users in France, USA and in more than 30 countries worldwide.
Anne-Charlotte Moulins Esq.
Alter Avocats - Bordeaux
Perfect Customer Support team! Always get relevant answers to my questions in a matter of messages.
Clémence Michaud Esq.
Avocate - Bordeaux
With Jarvis Legal, I can focus on my key tasks and developing my clientele. Immediate grasp of the software thanks to a hyper professional trainers.
Etienne Deshoulieres Esq.
Deshoulieres Avocats - Paris
The learning curve was really quick. Every associate at the firm manages their time-tracking and billing. I only have to validate invoices. I have considerably saved time on the whole billing process.
At the
heart
of the legaltech
For more than 7 ans, Jarvis Legal has been an active leader of the legaltech ecosystem, developing innovative technologies to better our users.
This pages may
interest you
Subscribe to our newsletter
Receive our latest information, files and articles to help you on a daily basis!

The software for lawyers and legal departments
© 2023 Jarvis Legal. All rights reserved.