Payment tracking software for lawyers
Get access to live and reliable information to carry out an accurate an efficient financial follow-up. At anytime, you know the balance of any clients and see the unpaid bills and send reminders at the right time.
Accuracy
Get access to
the right information
to take the right decision
All the client financial information are gathered in one place for you to have both a complete and accurate view of the situation. You see in a glance where you stand: if a payment on a bill is overdue, if the client balance is positive or negative, the number of overdue bills and payments received. This complete table helps you take decisions and send out reminders if need be.
Dedicated team at your side
Accessible from Mac, PC and mobile
Payments
Payment follow-up
made easy
Enter a payment in Jarvis in a matter of seconds. It's all the more convenient as you can allocate it to several pending bills at once. Jarvis allows you to save a lot of time as it prevents you from performing multiple recurring actions. The client balance is automatically updated.
Protect your cashflow
Immediately
identify overdue bills
Reduce your payment collection time by spotting pending unpaid bills more easily. Depending on the payment terms defined upon billing, you know if the invoices were paid on time or not. Based on all this information, you can trigger the payment collection procedure with the appropriate level of emergency. No longer put your firm's cashflow at risk and take appropriate actions when needed.
Accounting follow-up
Business and accounting
reconciled
Don't lose track of your payments when your accountant come into play. Every payment is automatically registered on the cash journal and integrated in the accounting exports that you can then import in your accounting software. This way, your legal practice management software and accounting software are always alined. Partners and CPA share the same views based on updated information. It's easier to coordinate stakeholders to improve the law firm's financials.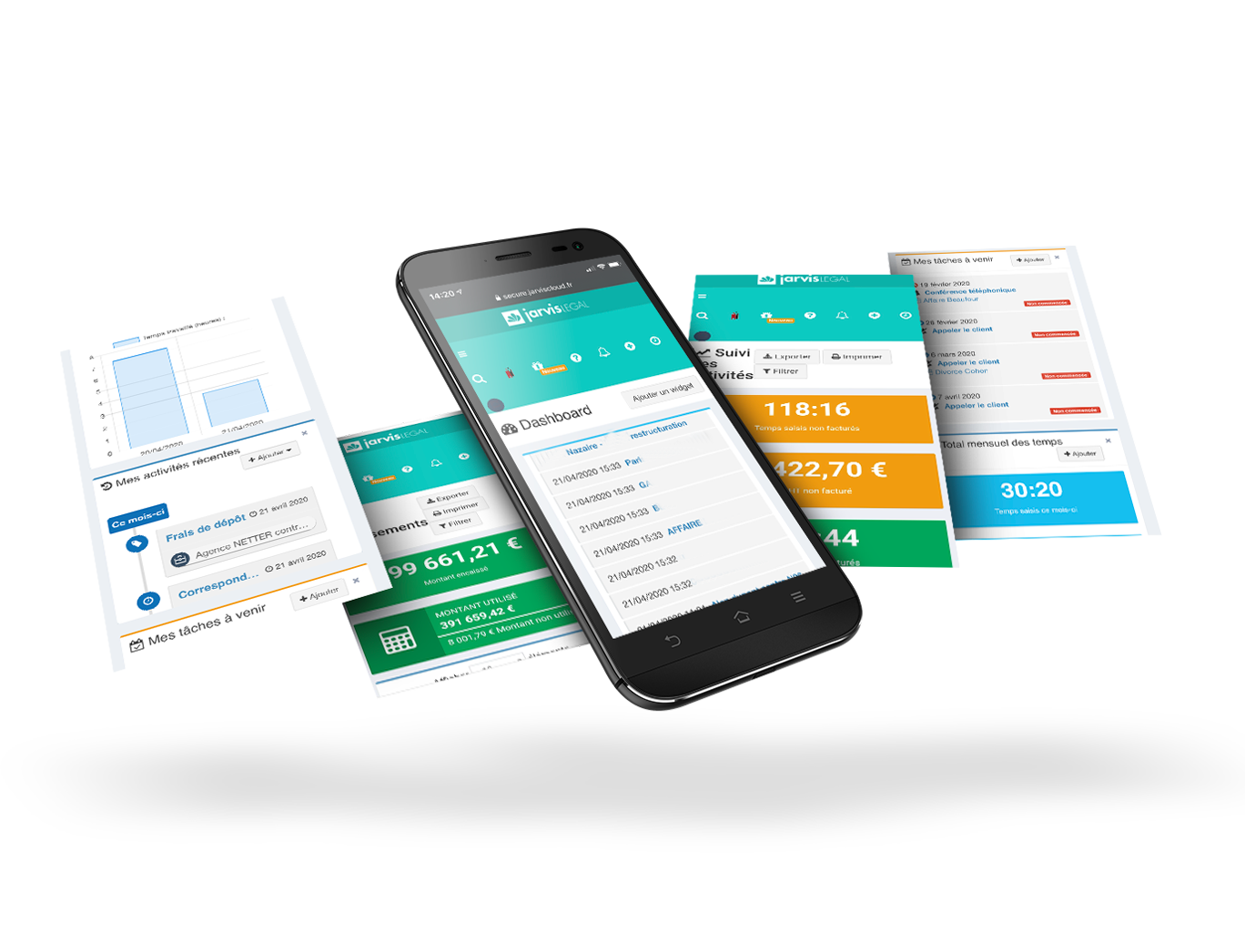 Accelerate your
digital transformation
With Jarvis, your digital transformation gets real in a matter of days. Our dedicated Customer Success team is here to assist you before, during and after the implementation. You quickly save several hours every day. The return on investment is immediate.
The Cloud power
Our solutions are plug-and-play and are just waiting for you. Everything is being implemented without any impact on your team daily operations.
A dedicated team
An entire team is dedicated to assist you throughout the project. From the data migration to the training of your team members, we remain at your side.
saved every month/teammate
savings on your IT budget
Virtuous circle
Protect your cashflow by
reducing
payment collection time
Better keeping track of your payments allows you to have a  healthier and stronger cashflow. You quickly identify clients who have a positive account balance and can send them reminders to make sure to they pay on time. 
They
trust
us
Trusted by thousands of users in France, USA and in more than 30 countries worldwide.
Anne-Charlotte Moulins Esq.
Alter Avocats - Bordeaux
Perfect Customer Support team! Always get relevant answers to my questions in a matter of messages.
Clémence Michaud Esq.
Avocate - Bordeaux
With Jarvis Legal, I can focus on my key tasks and developing my clientele. Immediate grasp of the software thanks to a hyper professional trainers.
Etienne Deshoulieres Esq.
Deshoulieres Avocats - Paris
The learning curve was really quick. Every associate at the firm manages their time-tracking and billing. I only have to validate invoices. I have considerably saved time on the whole billing process.
At the
heart
of the legaltech
For more than 7 ans, Jarvis Legal has been an active leader of the legaltech ecosystem, developing innovative technologies to better our users.
This pages may
interest you
Subscribe to our newsletter
Receive our latest information, files and articles to help you on a daily basis!

The software for lawyers and legal departments
© 2022 Jarvis Legal. All rights reserved.