Real time collaborative platform for legal professionals
No longer waste time sending dozens of emails and chat using tools that are not connected to your legal software. With Jarvis, you can work on the same document simultaneously, manage your tasks and communicate via a video-conference tool without leaving your application.
All in one
Set your team for
success
No longer juggle different applications to coordinate your team and move on with your matters. Use our application and all the integrated tools to communicate, organize yourself, draft documents collaboratively, manage your tasks and reminders, share documents. Jarvis is entirely dedicated to legal professionals. We know your job, your standards and your constraints. We took them into account to offer you the best solutions to work in team from anywhere under any circumstances.
Dedicated team at your side
Accessible from Mac, PC and mobile
Document writing
Enjoy a
shared
online document writing tool
Forget about the stress of juggling multiples versions of a contract, sent back and forth by email, to finally discover that they are as many versions as there are people in the loop. Plus the mistakes that go with it and waste of time. Go for a solution like Jarvis, which offers you, on top of automated document generation, to draft and edit documents live simultaneously. Everyone can see what everyone else is typing and use the embedded live chat. You are super efficient and get things done more quickly. You get to the final version in record time and without versioning or sharing issues. The same version of a document is available for all the matter participants. Everyone has access and can make the necessary changes to it without disturbing everyone else's work.
Collaborative tasks
Assign
tasks to yourself
and other team members
Be self-organized is a good thing. Get organized at the team, service, top management or firm level, it's even better! Jarvis task management center allows you to organize and assign individual or collective tasks. Reminders, deadlines, priorities, comments, associated matters are all available in every task for a perfect understanding of what needs to be done and when. Everyone is well coordinated and well organized. The ability to sync a task with a calendar, or convert it into a billable activity will convince you to use Jarvis task management center.
Simplified communication
Integrated emails and video-conference to always
be informed
How much time are you wasting on searching for the right email? For sure too much. Jarvis allows you to keep track of your emails directly from your matters. You immediately find the information you were looking for. No longer forward emails to other team members or create shared email accounts. Every participant has access to the shared emails and to the information within. The integrated and secure video-conference tool allows you to quickly connect with your team and share the progress on your matters.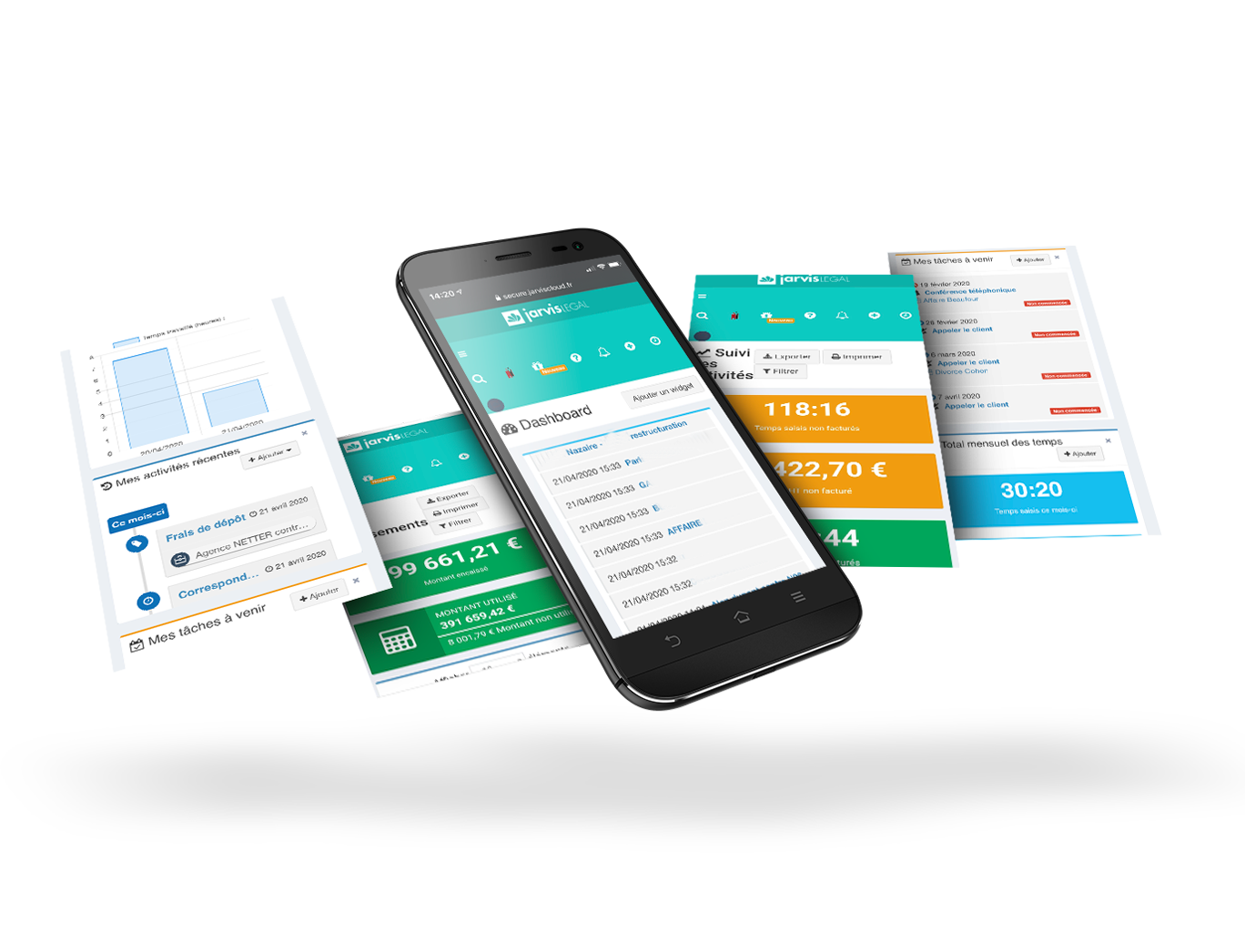 Accelerate your
digital transformation
With Jarvis, your digital transformation gets real in a matter of days. Our dedicated Customer Success team is here to assist you before, during and after the implementation. You quickly save several hours every day. The return on investment is immediate.
The Cloud power
Our solutions are plug-and-play and are just waiting for you. Everything is being implemented without any impact on your team daily operations.
A dedicated team
An entire team is dedicated to assist you throughout the project. From the data migration to the training of your team members, we remain at your side.
saved every month/teammate
savings on your IT budget
Move forward together
Together we're stronger. Provided we're
well-coordinated
Enjoy collaborative and integrated solutions to set your team for success. From online collaborative editing, team-based task management, secure video-conferencing, to documents sharing and notification center, your teams have intuitive and easy-to-use tools to work efficiently and in team.
They
trust
us
Trusted by thousands of users in France, USA and in more than 30 countries worldwide.
Anne-Charlotte Moulins Esq.
Alter Avocats - Bordeaux
Perfect Customer Support team! Always get relevant answers to my questions in a matter of messages.
Clémence Michaud Esq.
Avocate - Bordeaux
With Jarvis Legal, I can focus on my key tasks and developing my clientele. Immediate grasp of the software thanks to a hyper professional trainers.
Etienne Deshoulieres Esq.
Deshoulieres Avocats - Paris
The learning curve was really quick. Every associate at the firm manages their time-tracking and billing. I only have to validate invoices. I have considerably saved time on the whole billing process.
At the
heart
of the legaltech
For more than 7 ans, Jarvis Legal has been an active leader of the legaltech ecosystem, developing innovative technologies to better our users.
This pages may
interest you
Subscribe to our newsletter
Receive our latest information, files and articles to help you on a daily basis!

The software for lawyers and legal departments
© 2023 Jarvis Legal. All rights reserved.