Smart software for legal professionals – PC & Mac
Why choose your computer or IT equipments based on the legal software used at your firm? With Jarvis you're free to choose whichever equipment you like. Our software works on both PC and Mac without any installation nor limitations.
PC or Mac
Compatible with PC and Mac
by design
Sign into your application from anywhere using a PC or Mac. You just need a web browser to access all your data, without any limitations related to your equipment. Whatever computer or IT installation you may have, we will assist you anyhow.
Dedicated team at your side
Accessible from Mac, PC and mobile
Mac OS
Enjoy your
Mac
without any limitations
Fully enjoy our application even on Mac. Jarvis is a 100% cloud-based application, which is by default compatible with your Mac. Jarvis is accessible from Safari or any other web browsers. You can easily sign into your account and access your matters from anywhere at anytime. You're always operational and support your team when they need you. Your data and files are always handy, even when working remotely.
Cloud
100% web-based and deployed in
a matter of minutes
Whether you're using a Mac or PC, Jarvis can be deployed within your firm or department in a matter of minutes. You're quickly up and running and benefit from a dedicated assistance from our Customer Success team. Your team members are immediately operational and start saving time after their first clicks in the application.
Easy integration
Sync
emails, calendars and documents
For us, it's all the same whether you're on a PC or Mac. We made everything for you to work under the best conditions. Whatever equipment you use, you can always sync your emails and calendars with Jarvis and associate them with matters. You also always have your documents handy thanks to a local box installed on your PC or Mac.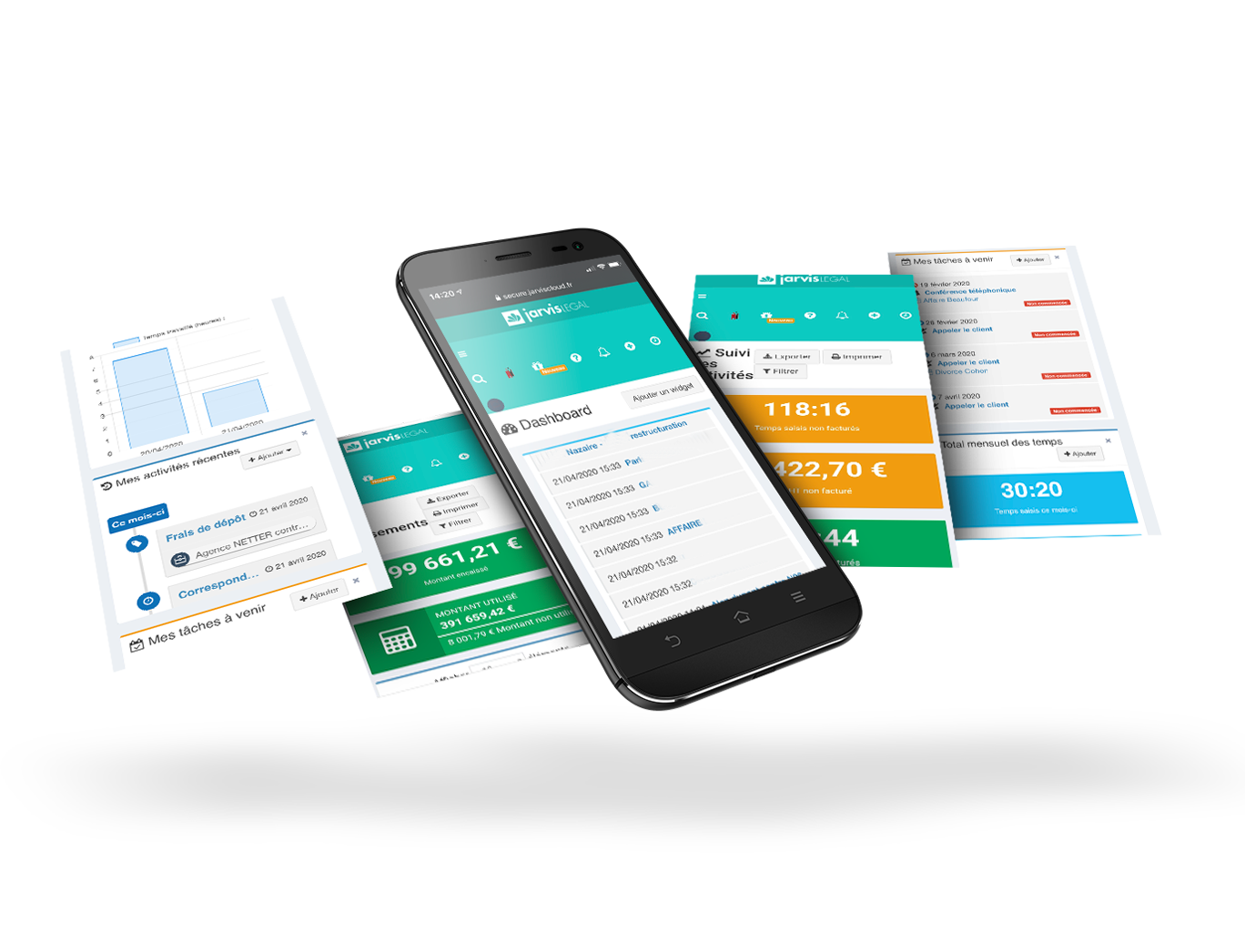 Accelerate your
digital transformation
With Jarvis, your digital transformation gets real in a matter of days. Our dedicated Customer Success team is here to assist you before, during and after the implementation. You quickly save several hours every day. The return on investment is immediate.
The Cloud power
Our solutions are plug-and-play and are just waiting for you. Everything is being implemented without any impact on your team daily operations.
A dedicated team
An entire team is dedicated to assist you throughout the project. From the data migration to the training of your team members, we remain at your side.
saved every month/teammate
savings on your IT budget
Your choice
Stay as
you are
Jarvis is here to assist you
Jarvis is a Cloud-based solution designed for legal professionals that is compatible with any device. Whether you're working on PC or Mac, or both, you can sign into your account using any web browser. You immediately access your own dashboard to move forward with your matters.
They
trust
us
Trusted by thousands of users in France, USA and in more than 30 countries worldwide.
Anne-Charlotte Moulins Esq.
Alter Avocats - Bordeaux
Perfect Customer Support team! Always get relevant answers to my questions in a matter of messages.
Clémence Michaud Esq.
Avocate - Bordeaux
With Jarvis Legal, I can focus on my key tasks and developing my clientele. Immediate grasp of the software thanks to a hyper professional trainers.
Etienne Deshoulieres Esq.
Deshoulieres Avocats - Paris
The learning curve was really quick. Every associate at the firm manages their time-tracking and billing. I only have to validate invoices. I have considerably saved time on the whole billing process.
At the
heart
of the legaltech
For more than 7 ans, Jarvis Legal has been an active leader of the legaltech ecosystem, developing innovative technologies to better our users.
These pages may
interest you
Subscribe to our newsletter
Receive our latest information, files and articles to help you on a daily basis!

The software for lawyers and legal departments
© 2022 Jarvis Legal. All rights reserved.