Collaborative platform for matter and team management
No more data spread out on various applications or systems. Gather all your emails, documents, tasks and communication tools in one application safe and secure. Benefit from a unique solution accessible by all your team members. They have access to the information they need to complete their mission. Accessible from anywhere at anytime, Jarvis offers the ideal work environment for your team.
More automation.
More
time savings
Your team members can sign into their Jarvis account from anywhere, from any device at anytime. They have access to shared matters, document templates, document storage space, emails and calendars and tasks. They always know where a client or matter stand and work well-coordinated.
Gather information
Find all your information in one place safe and secure. Your team members can easily sign into their accounts and organize their work depending on the matter status, share  documents, view and reply to emails, start video-conferences. Everything is accessible from a single interface.
Stay in control
Your team members can only view matters for which they were granted access to. You can give access rights depending on your team members roles and functions. You keep control of the access to information and guarantee data confidentiality between your teams or services. You can share documents via a secure link, protected with a password and expiry date.
Draft docs in team
Offer your team the ability to work live and simultaneously on a document. You draft contracts, agreements or conclusions more quickly. Notes, comments, redlining and chat are directly integrated in our documents for you to be more efficient. Compatible with Microsoft Office.
Meet your deadlines
Organize your team work by assigning tasks to team members. You make sure your teams are well-coordinated while ensuring deadlines are met. Tasks are accessible from any pages in Jarvis and are synced with your calendars to make sure you don't miss any.
Better communicate
Use all the tools at your disposal to keep in touch with your teams, clients and partners. Video-conference, notifications, chat, tasks are at your disposal to better interact with them even remotely.
Easily search
You sit on gold mine of documents that you don't exploit enough. No longer waste time searching for documents. With Jarvis, you can easily find and share documents with your team. They are filed and organized by matter and can easily be shared securely.
Dedicated team at your side
Accessible from Mac, PC and mobile
No longer juggle
different data storage spaces
Store all your data in one place safe and secure. Jarvis works just like you: your information is organized based on your matters, clients or projects. It's more logical and more efficient. Your teams have access to information centralized in an intuitive and easy-to-use application. They no longer waste time searching for documents. You matters information are safe and efficiently processed by your teams.
Work
in team and in real time
to get things done more quickly
Why waste time writing different sections of a document one team member at a time? No more endless email conversations to get the latest version of a document. Use the application to draft or edit live the same version of a document. Every user can see in real time what other users are typing. Leave notes or redlining comments, chat directly from the document to obtain a final version in a record time.
Stay well-organized to make sure
to be on time
Anticipate and be prepared for any eventualities. Jarvis task center allows you to quickly and efficiently delegate actions to any teams or team members. Easily set reminders and alerts for your tasks and associate them with calendars and matters. You know what's coming next and can organize your work accordingly. You anticipate the workload of your team and can distribute it more efficiently .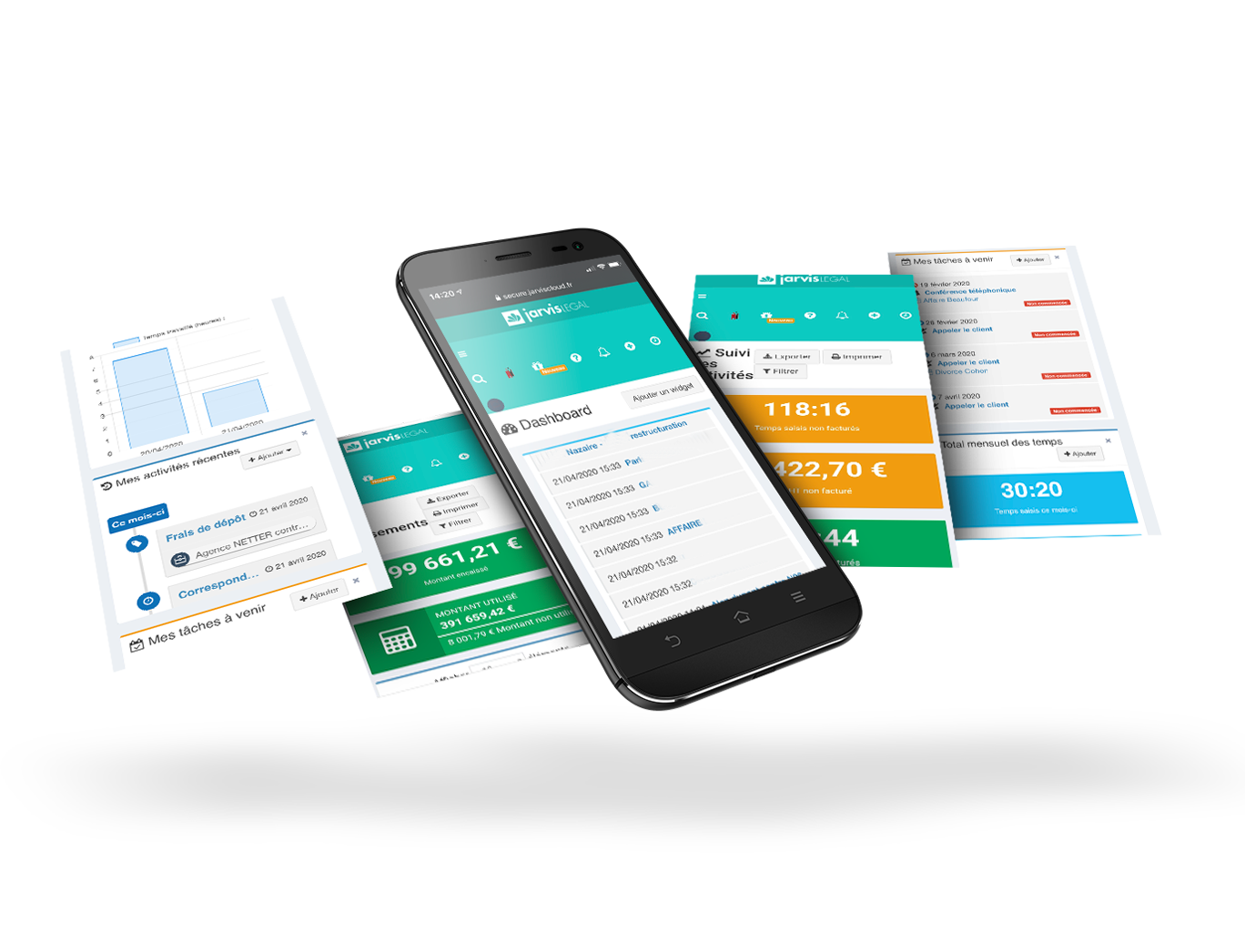 Accelerate your
digital transformation
With Jarvis, your digital transformation gets real in a matter of days. Our dedicated Customer Success team is here to assist you before, during and after the implementation. You quickly save several hours every day. The return on investment is immediate.
The Cloud power
Our solutions are plug-and-play and are just waiting for you. Everything is being implemented without any impact on your team daily operations.
A dedicated team
An entire team is dedicated to assist you throughout the project. From the data migration to the training of your team members, we remain at your side.
saved every month/teammate
savings on your IT budget
More automation.
Less time wasted
Accelerate your digital transformation thanks to 100% Cloud-based solution hosted in France. No more time-consuming and costly server deployments. You're up and running in a matter of minutes. Immediately enjoy Jarvis Legal and digitalize your department to remain operational under any circumstances. You can access your documents, matters or invoices from anywhere, from any device at any time. Even offline.
Jarvis is a genuine Cloud-based solution designed for legal professionals that allows you to significantly reduce your costs. You no longer need servers or shared NAS drives, you reduce your investment budgets as well as your operating costs. You improve your cashflow position and keep a safety cushion.
They
trust
us
Trusted by thousands of users in France, USA and in more than 30 countries worldwide.
Anne-Charlotte Moulins Esq.
Alter Avocats - Bordeaux
Perfect Customer Support team! Always get relevant answers to my questions in a matter of messages.
Clémence Michaud Esq.
Avocate - Bordeaux
With Jarvis Legal, I can focus on my key tasks and developing my clientele. Immediate grasp of the software thanks to a hyper professional trainers.
Etienne Deshoulieres Esq.
Deshoulieres Avocats - Paris
The learning curve was really quick. Every associate at the firm manages their time-tracking and billing. I only have to validate invoices. I have considerably saved time on the whole billing process.
Ces pages peuvent vous
intéresser
Découvrez de nouvelles fonctionnalités! 
Subscribe to our newsletter
Receive our latest information, files and articles to help you on a daily basis!

The software for lawyers and legal departments
© 2023 Jarvis Legal. All rights reserved.