Legal Practice Management Software for lawyers and Legal Departments
More automation.
Less
time wasted.
All the features you need in one intuitive and ready-to-use solution.
Your expertise.
Our solutions.
Accelerate your digital transformation with the most comprehensive and intuitive legal software on the market.
Create new opportunités
At the heart of the Legaltech.
For more than 7 years
Since 2013, we have been assisting thousands of legal professionals in their digital transformation, in France and in more than 30 countries worldwide. We never stop to innovate to provide you with even more intuitive, reliable and efficient solutions. 
We made the choice to develop a 100% web-based solution for you to work from anywhere and from any device.
Jarvis is a founding member of France Digital Legaltech group. We are working on building common standards so that your favorite applications can be interconnected. We make your day-to-day work easier so that you can dedicate more time to your teams and clients under any circumstances.
There is a Jarvis
for everyone
Whether you are a Partner, Associate, in-house Counsel or Chief Legal Office, there is a version of Jarvis Legal designed for you.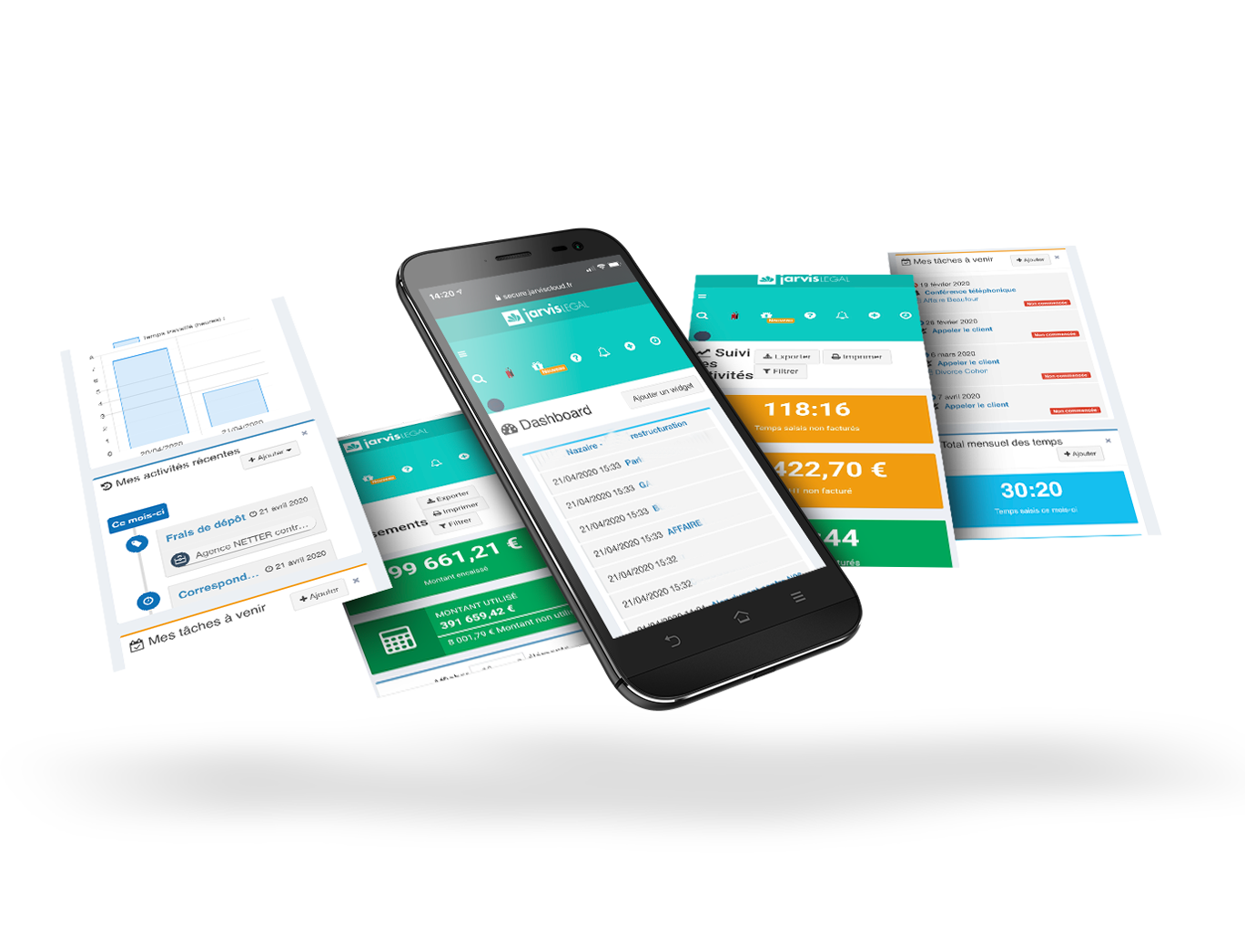 Accelerate your
digital transformation
With Jarvis, your digital transformation gets reel in a matter of days. We assist you before, during and after the implementation. No longer waste time to be able to save some.
The Cloud power
Our solutions are plug-and-play and are just waiting for you. They can be deployed in a matters of days. Stark working from anywhere, from a PC or a Mac, from a tablet or smartphone.
A dedicated team
An entire team is dedicated to assist you throughout the project. From the data migration to the training of your team members, we remain at your side.
saved by month and by person
faster to deploy
than a classic software
They
trust
us
Trusted by thousands of users in France, USA and in more than 30 countries worldwide.
Anne-Charlotte Moulins Esq.
Alter Avocats - Bordeaux
Perfect Customer Support team! Always get relevant answers to my questions in a matter of messages.
Clémence Michaud Esq.
Avocate - Bordeaux
With Jarvis Legal, I can focus on my key tasks and developing my clientele. Immediate grasp of the software thanks to a hyper professional trainers.
Etienne Deshoulieres Esq.
Deshoulieres Avocats - Paris
The learning curve was really quick. Every associate at the firm manages their time-tracking and billing. I only have to validate invoices. I have considerably saved time on the whole billing process.
Our
Partners
For the pas 7 years, Jarvis Legal has been an active leader in the legaltech ecosystem. Discover our partners.
Subscribe to our newsletter
Receive our latest information, files and articles to help you on a daily basis!

The software for lawyers and legal departments
© 2021 Jarvis Legal. All rights reserved.